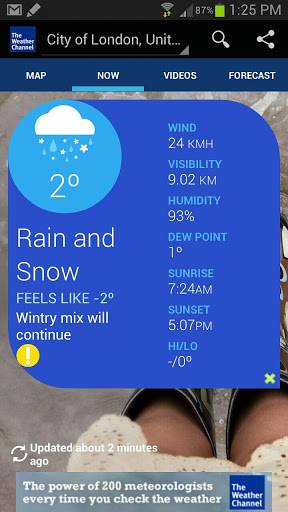 The official Android app for The Weather Channel has been updated today in the Google Play Store, and since we all love knowing whether or not it's about to rain we figured a quick status update was in order. If you don't use HD Widgets, or any of those other options for weather alerts, the official Weather Channel app is pretty awesome. Today's update is all about the visuals and design, so lets take a look.
The new app looks a lot better than before, is visually impressive, and has some nice animations and smooth UI elements. It follows the Android Holo design guidelines somewhat, and has plenty of gesture based controls. If you need to know the week forecast, or even up to the minute details on when and if it will rain, this is the app for you.
The new app has now been redesigned and optimized for tablets, the forecast is more detailed, there's additional videos and a bigger selection for those looking for news, and much more. Their maps got a bit faster, and hey, they even added a refresh button this time around. Something that oddly was missing for a weather app.
One of the other new changes aside from an awesome new user interface is the way the app will alert you of rain. Before it had a general idea, but the official Weather Channel app will now tell you the exact time it will start raining in your location. That's neat. Sadly it appears we have ads as much as weather alerts, but what can you do. Get the new and improved Weather Channel Android app from the link below.
[via Play Store]