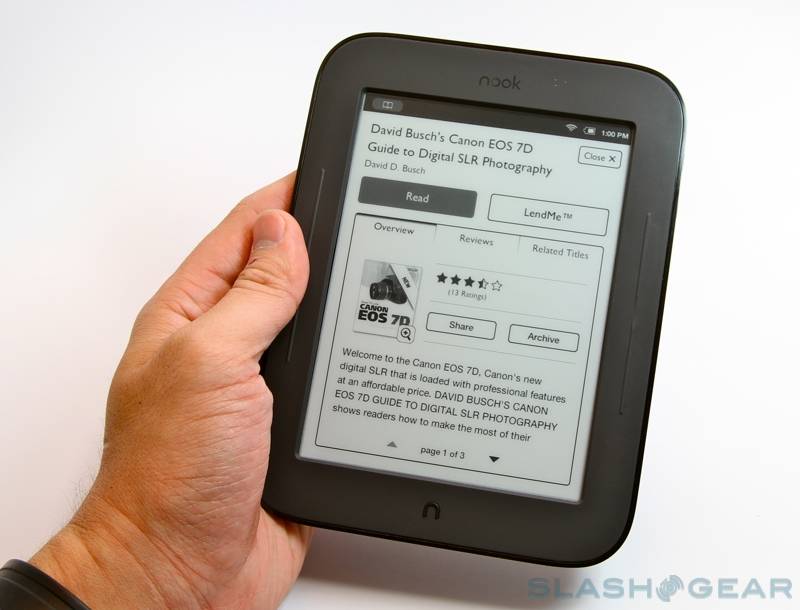 Our good friend Vincent Nguyen over at our sister site SlashGear has just received the All-New NOOK e-reader and has done a full hands-on and unboxing for us all to enjoy. The All-New NOOK replaces the originally NOOK that had a color LCD screen and the e-reader display both. This time around things are focused clearly on reading with the new E-Ink Pearl display that offers an 80% improvement in screen refresh rate.
With no color LCD screen or keyboard it certainly is compact, all while being a little lighter than the latest Kindle. It features a 6″ E-Ink touchscreen display, 800 Mhz processor, 238mb of available storage, as well as Wifi and a MicroSD slot. With it being a simple 6″ touchscreen it sure feels small, light, and having a soft touch coating and concave recess on the back to help your grip remain comfortable.
The new E-Ink Pearl Display is touch enabled using emitters down the edge of its sleek bezel. The only weakness of the display is still the refresh lag while the screen flickers to output new text, but this new model should be much faster than your previous e-reader. The page-turn strips down either side of the 6-inch display fall neatly under the fingertips for quick and easy turning the page without touching the screen, that is a nice touch.
Having just received the All-New NOOK he has only been able to enjoy it for a short while, so feel free to check out the unboxing video below as well as the full gallery and stay tuned for the full SlashGear review coming soon.
All-New NOOK hands-on and unboxing video
[vms 5fc5bee3b98ced83963b]
[via SlashGear]