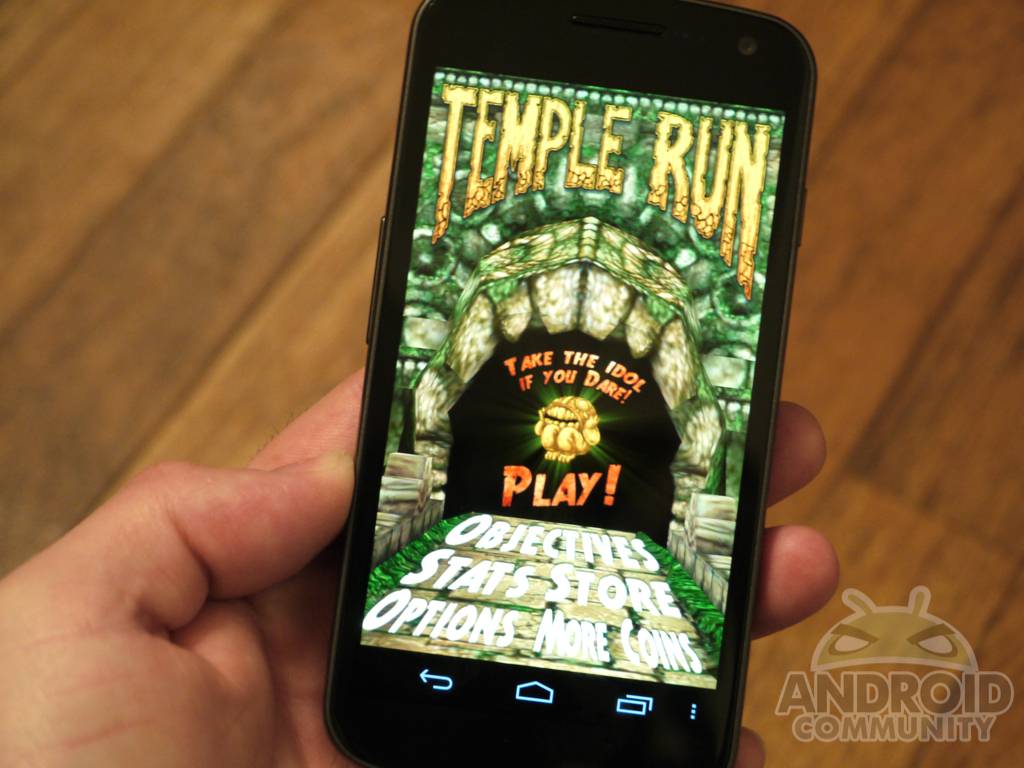 It's finally here folks, as in right this minute available for Android. It's time to get out those phones and start running, swiping and jumping in the latest gaming sensation for Android. Temple Run was stated to be finally and officially released for Android today, and a few minutes past midnight it's here and available for all. The game runs great and I'm addicted (as if I wasn't already) but oh well. Who needs sleep anyways right?
If you haven't heard yet, Temple Run is the hit sensation for iOS that has been downloaded over 36 million times and has taken the gaming world by storm on mobile devices. With the wide array of Android phones and tablets they took a few months to get everything right, and now it's finally here and available to all. This simple yet extremely addicting game will consume hours of your day, and I don't recommend letting your children play it or they'll want your phone every waking minute.
We'll be sure to do a full review in due time but for now enjoy a quick hands-on video of Temple Run for Android.
With multiple swipes you control the tomb raider that has stolen a cursed idol from the Temples and have to run from and escape the evil monkeys trying to get it back that are nipping at your heels. This top down 3D scroller-type game is actually loads and loads of fun. It sounds a bit boring but once you start playing you'll quickly see how addicting it can truly be.
Initial impressions are quite good. I did have a force close trying to go back to the main menu that crashed the game, but this is version 1.0 and we expect they'll keep it up to date and add more devices to the compatibility list as soon as possible. I'm showing almost all mid-range phones having support from the original Galaxy S to the Nexus One and more. Every tablet I've ever owned is supported, all screen sizes so it appears to be a go for most. There was an occasional slowdown but again this is the initial release, and hopefully they'll iron everything out over the next few weeks.
Finally it is here! Get Temple Run for Android right this minute at the link below and have fun. We've warned you twice — it is extremely addicting. Happy running!