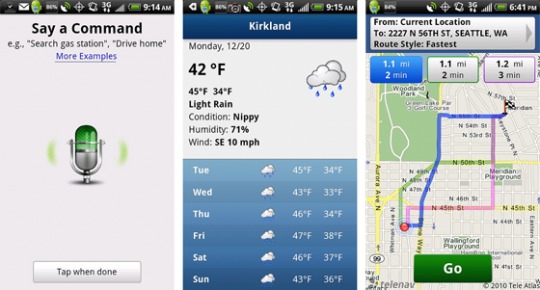 If you're a regular user of Google's built-in Android navigation, you're probably not aware of TeleNav, an alternative available on both Android and iOS. But plenty of others are: the company announced today that it had passed 27 million paying subscribers and 3.3 million free users as well. On Android four versions of TeleNav on offer: the standard app, a tablet version and modified versions specifically for Verizon and T-Mobile. They've also got an HTML5-based web navigation service that can be accessed by apps.
The company itself announced some impressive numbers at their event today: between 2009 and 2011, their revenue grew from $12.5 million to $35 million. A portion of that came from Android users who either don't have or don't want Google's solution, perhaps helped along by feature additions like voice control, live traffic, multiple route options and a database of locations in the US and abroad. Currently the "Generic" app is sitting at somewhere between one and five million downloads.
Elsewhere there are exciting things happening with TeleNav's Scout app, but unfortunately this premium service still isn't available for Android. Company representatives didn't say when or if the more roboust navigation suite (including integration with some in-dash units) would be coming to Android, but we live in hope. For now it remains one of the better non-Google alternatives out there.