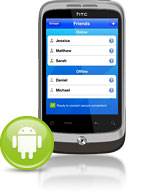 One cool feature available on many phones is the ability to control your computer from your phone via a 3rd party app. I know for that there are a lot of apps on the iPhone that can do this, but there haven't been many apps on Android yet capable of doing this. Well, today is your lucky day because the TeamViewer application has just released a beta for Android devices.
TeamViewer will allow the user to remotely control a Windows, Linux, or mac computer from your Android device. Here is the complete list of features:
Support your clients and colleagues spontaneously.
Access your office desktop with all of its documents and installed applications.
Remotely administer unattended computers (e.g. servers).
Free for non-commercial use: support family and friends or have remote access to your own computer.
The wait is finally over after TeamViewer did lots of testing to make sure it was ready for beta release. You can download the app at the TeamViewer Mobile site or at the barcode image below. Also keep in mind that the beta will only be available for a limited time until Jan. 31 2011.
Via [TeamViewer]