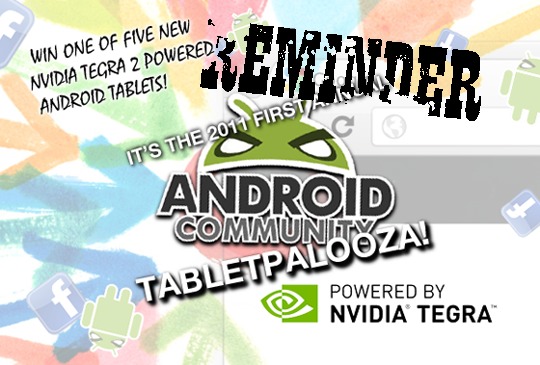 We have mentioned this a few times all around Twitter and Google+ lately so I doubt you missed the news, but in case you did we have a giveaway going on. This is our first annual Tabletpalooza Giveaway and we have some fun Android Honeycomb tablets we are giving away. This week on Android Community we have the Acer Iconia A500 Tab, and SlashGear we are giving away the Galaxy Tab 10.1.
Again, for all the details you can see the original post by clicking here as well as heading over to our sister site SlashGear. I know you guys don't want to miss out on this opportunity so you better check those links out. We have sent out as many Google+ invites as our hands could handle over the past few days so you should be seeing that invite in your inbox soon hopefully.
The Acer Iconia A500 has seen some traffic as of late. It was just updated to Android 3.1 Honeycomb, as well as a beautiful port of the Samsung Tab TouchWiz UI so if you're lucky enough to win you will have plenty of fun things to try.
Feel free to read over all the rules again by clicking here