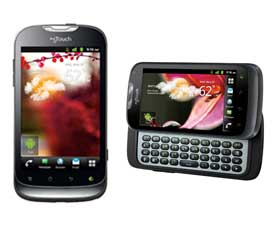 T-Mobile has announced two new smartphones that will be available on August 8. The two devices are the T-Mobile myTouch and the T-Mobile myTouch Q. Both smartphones have a new version of the Genius Button and feature an easy-to-use Setup Wizard. Both smartphones feature similar specifications.
Both devices have a four-inch WVGA resolution touchscreen and a virtual keyboard with Swype. The difference between the two devices is that the myTouch Q also has a slide out QWERTY keyboard for use in landscape mode. Key features for both devices include a voice control mode powered by Dragon from Nuance. The phones have simple setup and an enhanced app drawer.
Both the devices will ship with Android 2.3 Gingerbread and have 1.4 GHz processors. Both devices have a five-megapixel camera with autofocus and an LED flash along with a dedicated camera button. The myTouch will be offered in black or dark red, and the myTouch Q will come in black or white. Both devices will also have the same retail price of $49.99 after a $50 mail-in rebate.