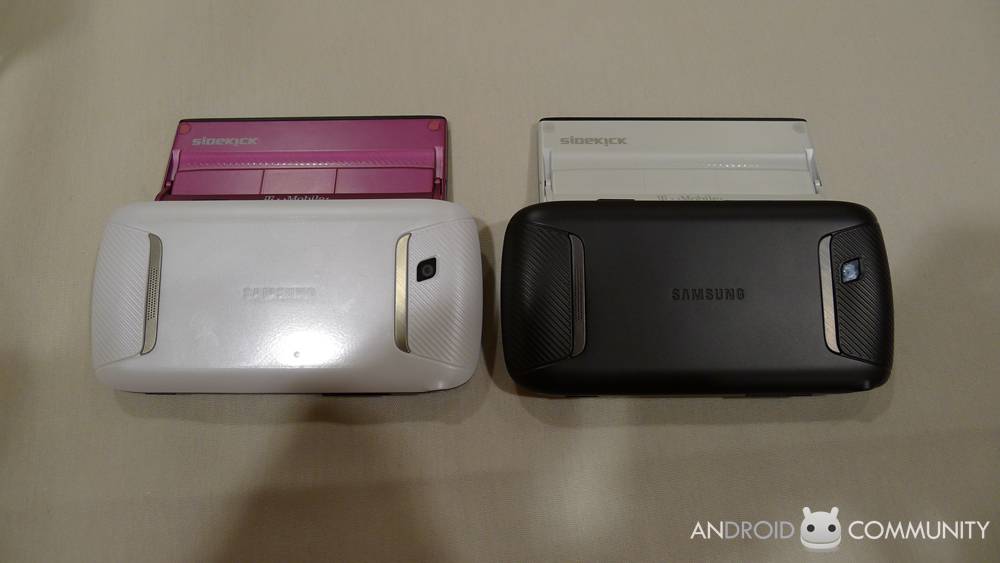 Here at CTIA 2011 we've been granted the opportunity to get a slightly early hands-on with the first Sidekick to be jam packed with Android goodness. This device comes in two color schemes, one of them with a black underside and white back, the other with a white underside and pink back. This phone, in my own personal opinion, marks a turning point for Android, one where devices running Google's mobile OS are aimed at the feminine instead of just the masculine brute in us all, that one who loves every color just so long as it's BLACK!
First Impressions
I refuse to say that the pink model of this brand new version of the Sidekick is made for girls because heck, look at the awesomeness of that bright blast of color! It's clearly made for the sassy feminine figure in each and every one of us. The phone is clearly made for folks who like to text, type, or otherwise message one another, as the entire Sidekick line has always been, and the addition of Android has blasted its insides into outer space in a way that I can only describe as the most ambitious user interface modification ever applied to Android.
Hands-on Video Demo:
[vms 01da60385f0bb17a4a9e]
Software
While the hardware is, as nearly always, the first bit of information your brain will take time to process when handling a new device, here, since we already know how a Sidekick is supposed to function, this one stabs you in the eyeballs with its wild colors and completely unique set of controls and interface. This device even marks its info screen differently than the average Android phone, marking its version of Android as "Firmware version: 2.2.1" and its Build number as FROYO.UVKCB. You could also note the model number if you felt so inclined here, SGH-T839.
Once you back out of settings, or NEARLY back out of settings, you take note of an interface chooser along the lines of our favorite non-root homescreen replacement app ADW Launcher EX. This new system goes by two names, both of them marked with a spraypaint-can icon: inside options it's called Theme Settings, if you locate the same deal in your apps, it's called Theme Changer. You're given several options (which we'll get into in more detail in a separate post) including the ultra-insane "Hipster Eye."
Everything from the homescreens to the app chooser to the phone dialer is taken over by this fabulous Sidekick overlay. Lots of apps seem to be integrated in like qik for video chat, Media Hub, Visual Voicemail, wifi calling, group text, and the sweetly touted Cloud Texting which will allow you to pretty much chat from whichever device you've got to whichever other device you've got one it's released in earnest.
An extremely helpful item you'll be glad you found inside this phone, a list I think every phone should have, is Tips and Tricks. On this list is a very important guide for such an odd phone, "Physical Buttons," or in this case "Sidekick Physical Buttons." A more lovely set of infographics explaining the device they appear on has never been seen.
Hardware
This device is quite comfortable to hold, definitely made for landscape mode, and is pretty hardcore despite its possible plastic weak points. The hinge you're working with here is plastic, but it's not cheap. If you leave this device open you'll definitely run the risk that someone might sit or step on and snap the back of it.
The back panel is simple to remove revealing a 1500 mAh battery and slots for both a SIM card and a microSD card for bonus storage. There's not too much NEW to say about the hardware as it's essentially the same model T-Mobile has been Sidekickin' since back in the day, but with Android running around inside, there's some magic going on. I'll commit to that for sure.
We're looking forward to having a much longer time walking through the insides of this unique device once T-Mobile has it ready to review. Pink please! Ok fine, white.