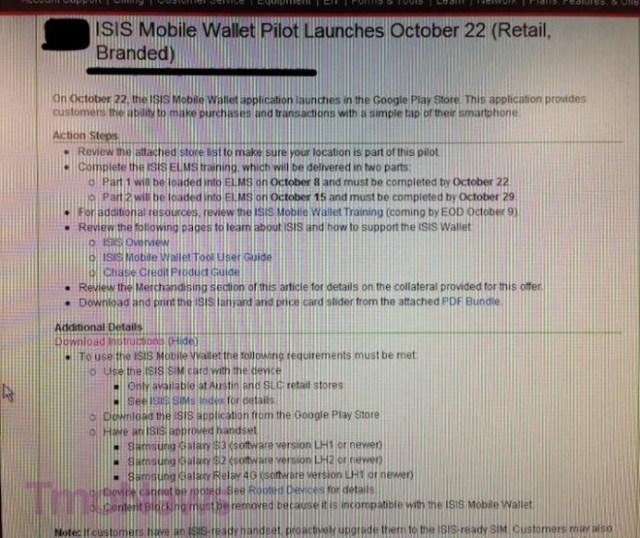 ISIS, the mobile payments platform we've been hearing about for months, is finally going to launch on October 22 of this year. Well, it's not a full launch, more like a pilot to test the service, but it's still a step in the right direction for sure. A leaked image of what looks like a T-Mobile internal document posted by TmoNews clearly shows that they plan to have this app hit Google Play on the 22nd.


Of course, there are some requirements to be able to use this new mobile wallet program. First of all, you will need to have a T-Mobile device with an ISIS SIM card. Only certain devices are supported for the time being. You will also need to own a Samsung Galaxy S III, Galaxy S II, or Relay 4G to be able to use the NFC payment system.
As is the case with most pilot programs, it will only launch in a few major markets, and then it will roll out to other places in time. The initial markets for this program are Salt Lake City, Utah and Austin, Texas. As this rolls out to other markets, it could be a huge success and put T-Mobile at the forefront of mobile payments. Only time will tell.
One thing to note, is that the screenshot specifically mentions that devices using ISIS cannot be rooted. We do not know if that is something that can be worked around, but at this point, it looks like your device will need a clean install to use ISIS. As always, we will keep you posted with news on ISIS as it gets closer to launching in its initial test markets.
[via TmoNews]