T-Mobile announced the Alcatel ONE TOUCH Fierce back in late-September. At the time they offered some details in terms of the specs, pricing and release date. And well, judging from the specs and pricing, we knew this handset was going to fit squarely into the mid-range lineup. While we realize that may not sound all that exciting to some, there may be a something here with the Fierce. We have recently been carrying the ONE TOUCH Fierce and have been pleasantly surprised. Read on to check out the full review below.
Hardware
Alcaltel has the ONE TOUCH Fierce equipped with a 4.5-inch display with a resolution of 960 x 540 at 245ppi. The handset is then powered by a quad-core 1.2GHz MediaTek MT6589M ARM Cortex-A7 processor with 1GB of RAM. One drawback here is the internal storage. Alcaltel has this listed as being 4GB, however in our testing we are only seeing a little more than 1GB as being free and available.
Thankfully though, there is a microSD card slot if needed. The memory card slot is tucked away under the battery door cover. This brings two points that while we will point out, they may not matter much for those in the intended audience. The battery is non-removable and the memory card slot is not hot-swappable, which means the phone will need to be powered down to add/remove a card.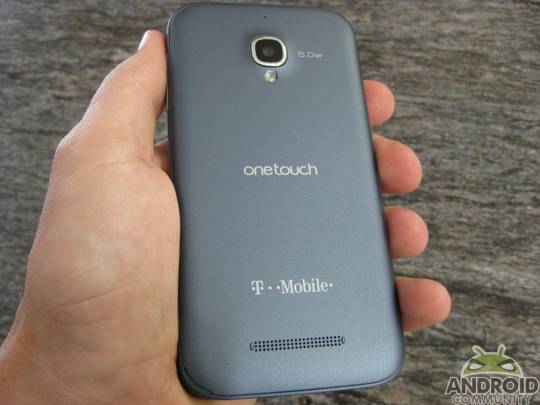 Those few quirks aside, the phone measures in at 5.13 x 2.64 x 0.35 inches and weighs in at 4.59 ounces. Overall, the ONE TOUCH Fierce feels really comfortable to hold. It is not all that heavy and the soft-touch on the back and sides feels good. This is made of plastic, but at the same time it feels solid and although we didn't test this — it feels like it could hold up if accidentally dropped.
A tour of the outside reveals a VGA quality camera and capacitive buttons on the front, a power button and 3.5mm headphone jack up top, microUSB for charging on the bottom, a volume rocker on the right side and 5 megapixel camera with flash and speaker sitting on the back. The handset is gray on the back and sides, black on the front and with the expected brands. That is to say the Alcatel logo on the front with the ONE TOUCH and T-Mobile logos on the backside.
Software
The ONE TOUCH Fierce is running Android 4.2.2 Jelly Bean and while the install is relatively clean as far as manufacturers go, there are some noticeable differences. To begin with, the app icons are slightly more playful looking. This isn't a bad thing by any means, but something that may take a day or so to get used to if you happen to be switching from another Android handset.
You can get a look at those icons in the images sitting above and below. This is where another good point comes in. There are some T-Mobile branded apps, however all things considered — there was not much in terms of pre-installed on the Fierce. You will see the four app screens sitting below, however we should point out that our testing adding one full (20 app) screen.
Some of the pre-installed apps included Emergency alerts and a Flashlight, as well as those from T-Mobile. Like or dislike those, they are a part of buying a carrier branded handset. In this case we feel the T-Mobile apps do have value. Or at least the potential for value depending on the user. One example would be T-Mobile TV. There is also a Mobile HotSpot as well as T-Mobile Name ID, T-Mobile My Account and a few others.
Perhaps in an effort to keep users from having to dive into the settings, there is also a W-Fi app (which is really just a shortcut to the settings). Users will also find an FM Radio app, though truth be told we would rather prefer to download and use the TuneIn Radio app for that sort of listening.
The T-Mobile TV app offers viewing of select channels including Fox News, Fox Business, ABC Mobile, NOW, Disney, a selection of sports related channels and quite a few others. Using TV requires dropping WiFi and sitting on T-Mobile 4G so the experience will likely vary depending on your connection speeds. In our experience, this was acceptable, but not great.
Otherwise, a few other highlights include the Swype keyboard, WiFi Calling and for those in need, M3 and T3 heading-aid compatibility.
Benchmarks
Benchmarks, a topic that has been rather hot lately. Needless to say, we understand some like to see the numbers so we went ahead and did tests with three of the more popular benchmarking apps. In this case that means AnTuTu, Geekbench 3 and Quadrant. Given the specs of the phone we have to say these numbers and placements were sort of expected.
AnTuTu returned a score of 13,721, Geekbench 3 returned a score of 326 (single-core) and 1092 (multi-core) and Quadrant had the handset sitting with a score of 4776. Simply put, this is not a high-end device. But again, the specs and the pricing already gave us that bit of information. These benchmarks simply offer further confirmation.
Putting the numbers aside. What we can say is that the handset performs reasonably well in day to day use. It is not a screamer in terms of performance, however given the audience that is likely to choose this model — it should serve them rather well. Our daily use included some voice calls along with plenty of messaging (text and Hangouts) as well as social networking, using the camera, some audio streaming and a bit of video streaming.
Battery Life
Alcatel has the ONE TOUCH Fierce loaded up with an 1800 mAh battery. This one is not removable which means those with heavy usage patterns will be forced to carry a charging cable and remain on the hunt for a plug. We prefer to see smartphones with a removable battery, but that likely goes back to our usage patterns — heavy. In this case we suspect those looking towards this phone (based on a low-price) would be more willing to carry the included power cord as opposed to shelling out any additional money for a spare battery.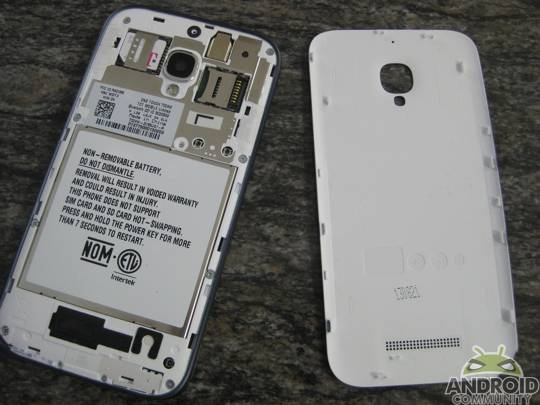 We were able to get through a work day without running the battery dry, but we did have to pay attention to what we were doing. We suspect the same will go for most users, and really, the daily battery struggle will come down to how you use your phone. Those doing more streaming will see the percentage drop quicker than those using the phone for calls and messages. Either way, the 1800 mAh battery is pretty much what we would expect to see in a handset such as the Fierce.
Camera
This ONE TOUCH Fierce has a 5 megapixel rear-facing camera with auto-focus and an LED flash. Launching the Camera app and diving into the settings will bring the expected features. The are options to adjust the scene mode, white balance and image properties as well as face detection, timer and more. Users will also find an auto-mode, HDR mode, panoramic mode and multi-angle view mode.
Needless to say, we launched the camera and took our sample shots using the default settings, as we suspect many regular users would do. We took a mix of shots in different lights with some indoors and some outdoors. As you can see, the outdoor images are a bit nicer as compared to those taken in low light. As well, the camera seemed to suffer a bit when trying to get close up.
Along with the sample images, we also have a sample video (sitting below). The video was captured using the default settings and was just a simple stroll through a few different areas, trying to get a mix of light and dark as well as bright sun.
The images and video were all uploaded and presented without editing.
Wrap-Up
All said and done we can say this — the Alcatel ONE TOUCH Fierce may not be our personal favorite. In fact, it may not be one that we would even consider purchasing. Still, we do see some value. The handset has a real solid build, it runs smooth, has Android 4.2 Jelly Bean and other decent features such as the camera. Bottom line here, the ONE TOUCH Fierce, combined with a low price point and the T-Mobile Simple Choice plans should be enough make a budget shopper really happy.
As for that pricing, T-Mobile has the ONE TOUCH Fierce priced at $163.99 (full retail) and available for $19.99 down and 24 monthly payments of $6. The handset will be widely available beginning on October 23rd. Review concluded, there are several more images of the Fierce sitting in the gallery below.