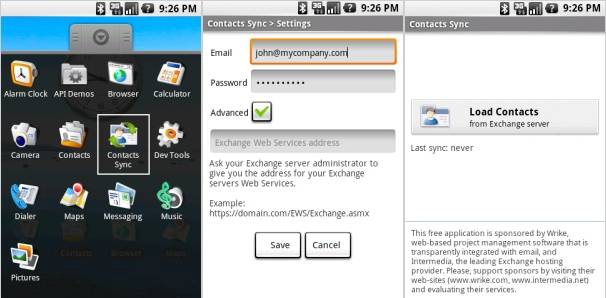 Many people have all their contacts synced with Microsoft Exchange, however with the T-Mobile G1 contacts are only synced with your Google address book, leaving it difficult for those who do not use Gmail. There is now a downloadable sync tool that allows you to sync your contacts right from the Microsoft Exchange Server, and not a moment too soon.
This application will be be free to everyone. The development was sponsored by Wrike, web-based project management software that is transparently integrated with email, and Intermedia, the leading exchange hosting provider. They claim that "ContactsSync works perfectly for updating data in your G1 phone address book." The draw-back to this method is that if there are any changes made in your exchange address book you will have to synchronize it again for changes to take place; unlike, say, using Exchange natively on a Windows Mobile handset, there's no automatic synchronization.
Once you download ContactsSync to your T-Mobile G1 setting it up is pretty simple. All you have to do is open the application, go to Menu> Settings and enter the email and password for your Exchange account. There are advanced settings if you wish to manually configure the Exchange web services address. After the application is setup you just press "Load contacts" and the contacts will copy over to your G1. This application will not sync over the contacts already on your device, however if you already have the contact on your phone it will be duplicated. As of now it only works one way too; we're told a later version of ContacsSync will support two-way synchronization and merging of contacts.
[Wrike]