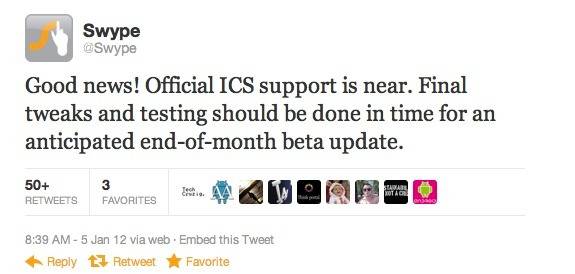 Good news folks, for everyone that loves to swype rather than type it appears that Swype might finally be ready to start beta testing and bring an official version to market supporting Android 4.0 Ice Cream Sandwich and the Galaxy Nexus. After being unsupported since release date today they've clarified when we can expect to see an update.
Although modders have already tweaked Swype to work near-perfect on the Galaxy Nexus it seems that they aren't having as easy of a time doing the same over at HQ. They've updated their official Twitter page with details stating that final tweaks are in progress and testing should be done soon.
The developer and modding community were able to get it up and working rather shortly but Swype will make sure everything is as official and awesome as ever. They wont release a beta until it performs to the Swype standard. While we are still in early January according to that above tweet we'll be seeing a beta release come "end-of-month". With an official automatic update to soon follow most likely.
I'm hoping we get some sort of beta build before the end of January but that is looking doubtful. In the meantime users can try their luck over at XDA for a version that will work on the Galaxy Nexus while we wait for the real deal.
[via Twitter]