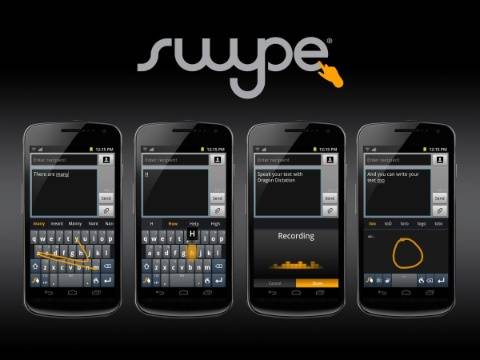 That popular 3rd party keyboard we all know and love, Swype, has just received a rather nice update today. Sadly this keyboard still isn't available in the Google Play Store, and instead you'll have to get the latest beta from Swype themselves to enjoy the latest and greatest. The most notable new feature is dictionary sync. Read on below for additional details.
Today the Swype keyboard for Android received an update that brings three much needed features for any keyboard — and we're getting them all at once. First off Swype has added a dictionary sync option. This means when you get a new device all your words (and slang) will be synced to the new smartphone or tablet. Alternatively if you add a word on your phone while on the go, it will also be available on your tablet at home. I've wanted this for a long time, and won't have to resort to Titanium Backup to restore my keyboard now.
The next feature isn't extremely useful in terms of daily use, but will make those social butterflies or Facebook and Twitter fanatics extremely happy. They've introduced a "trending words" feature where Swype will automatically learn #trending words. This means trendy words like "Gangnam" or "YOLO" will get added automatically from the folks at Swype — sadly. I'd rather not use the word Gangnam if I don't have to. This feature will even help you spell Bieber or Lautner correct the first time. Uhhh. Why?
My only concern is where they are getting their "trending" words. Recording our keystrokes, or just watching the social world? The last feature worth noting aside from the usual bug fixes is a better tablet Swype experience. Tablet users can now opt to use Swype in a split keyboard mode for larger displays instead of swyping across an entire 10-inch screen. Be sure and get the latest Swype beta from the source link below.
[via Swype Beta]