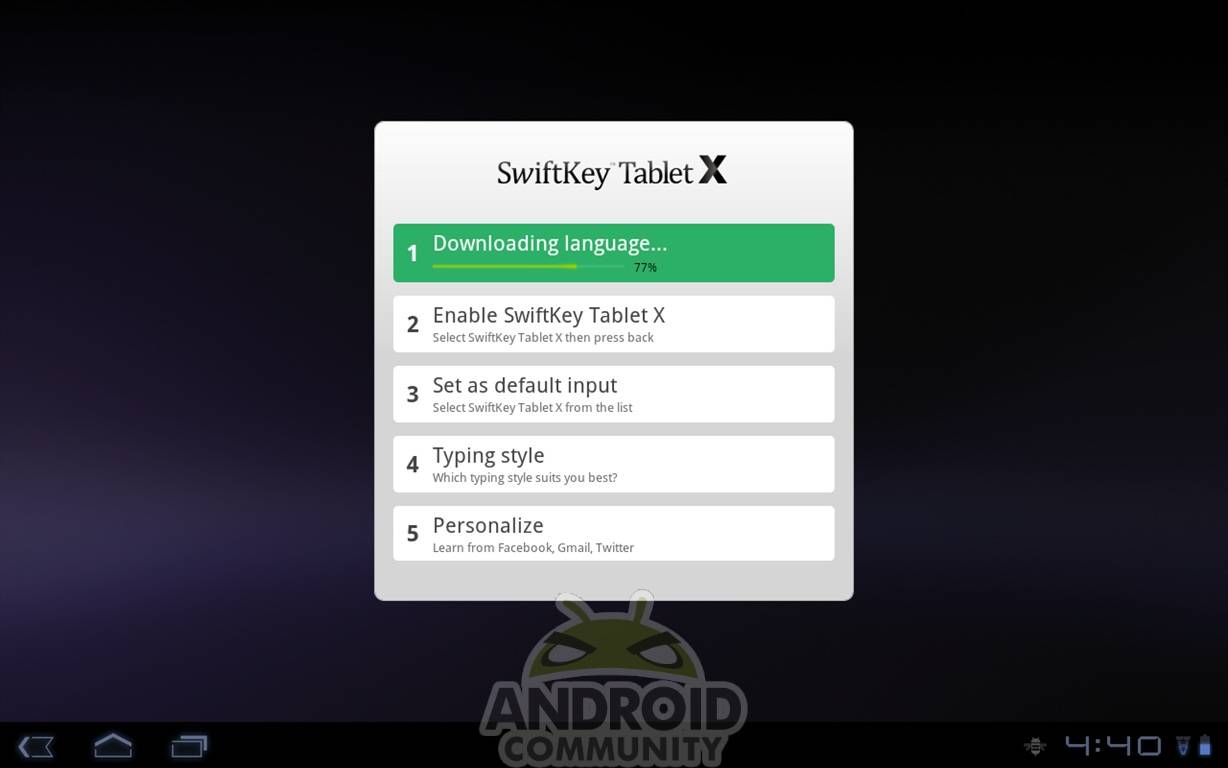 The popular keyboard SwiftKey X by Touchtype has been receiving a lot of attention in the world of Android, and with good reason. It is one of the best alternative keyboards available and has recently been graced with some updates making it even better. Today SwiftKey has just announced the new update version 2.1 for their popular keyboard after receiving some changes asked for by their community and from the private BETA. We've been able to look it over and I truly love SwiftKey X, especially on my tablet. More details and pics below.
Shown in the image above is the default style and theme. With many different options for themes and colors, they even have a split key option for tablet users that don't want to do the whole "hunt and peck" thing across the larger screen of a tablet. SwiftKey X launched back in July and you can see our more in-depth review here. A few of the main things that make SwiftKey X that much better is they use TouchType's fluency 2.0 AI engine to learn from the user, and then think like you to help predict words as you type. They also have a cloud learning feature where the app will learn you tying style from Gmail, Facebook, Twitter and now with the latest version 2.1 — your own personal blog. This enables SwiftKey X to get a feel for its user and predict words in a much more controlled, and personalized manor making this one of the best keyboards around.
Like I mentioned above I really love the split key view for tablets, it makes the entire typing experience easier and faster. Once you get used to it you no longer feel like you are searching for keys, and typing comes naturally without having to remove either hand from the device. Here's a shot of my favorite theme and the split key view below.
Now we all know plenty about SwiftKey X as it's been available for some time. Today they've announced (and released in the Android market) the newest version 2.1 for both phones and tablets. Here are a few of the features you can expect, and for those that haven't purchased SwiftKey X yet — they are why you should.
New Features with version 2.1
– Blog Personalization: In addition to support for Facebook, Twitter and Gmail, SwiftKey X can now intuitively learn your typing style from your blog posts
– New Insights Into Your Typing with Stats: Track how you type, keystrokes saved, words completed and typos/words corrected with SwiftKey X, then share your results with your friends.
– Heat-Map Visualization: See how SwiftKey models your typing accuracy to help tailor predictions more effectively.
– New Localization: Fully localized app support for more than 20 languages, including — French, German, Italian, Spanish and Portuguese.
– New Languages Added: Support for predictions in five new languages; Bulgarian, Finnish, Greek, Slovenian and Ukrainian. This brings the app's support to 33 total languages supported.
– Language Switching: Transition between two language keyboards by simply gesturing to the right or left on the spacebar.
– Instant language updates: Refresh your language list to see new languages and new updates as soon as they are ready.
– Autocaps Toggle: Now you can choose whether your sentences automatically begin with a capital letter or not.
SwiftKey X Tablet v2.1 hands-on
[vms e063ebbee79298fa36f5]
As usual with any update you can also expect a wide array of usability and stability improvements. Correct toggling of "go" and "next" buttons while typing and inserting email addresses and more. SwiftKey has added some general layout fixes as well as cut down on memory usage making SwiftKey X even more efficient in prediction.
One of my favorite new features listed above is the option for users to track there stats. Basically when SwiftKey X does its job and predicts words, finishes sentences and all those other awesome things it does, it also saves the stats so you can see just how useful and convenient it really is. I've been using it all week and my stat could was HUGE until I reinstalled it to take screenshots and lost my progress. Either way check out the stat list below for an idea of what you can expect as well as a few of the new heat-mapping tool to see how accurate you are — or aren't.
So far from using SwiftKey X on both my phone and tablet it is the clear choice for me and what I've used for months and months. The latest update to v2.1 brings a few awesome changes that makes this keyboard just that much better. Being a Android fanatic, having Swiftkey X sync to my Twitter account it already knows words like Kindle, fire, adb, xoom, Galaxy S II, HTC, and all those other terms I'm typing regarding Android on a daily basis. Once synced to my Twitter and my Gmail I didn't need to add anything to my dictionary as it does all the work for me — from names, weird words and more. It truly is awesome and I recommend everyone give it a try, then buy the full versions.
Both SwiftKey X Keyboard and SwiftKey X Tablet are available in the Android market by clicking here, and the newest version 2.1 should be available for update any time now. Go ahead and get the latest version and let us know what you think, because we love it.
[via SwiftKey X]