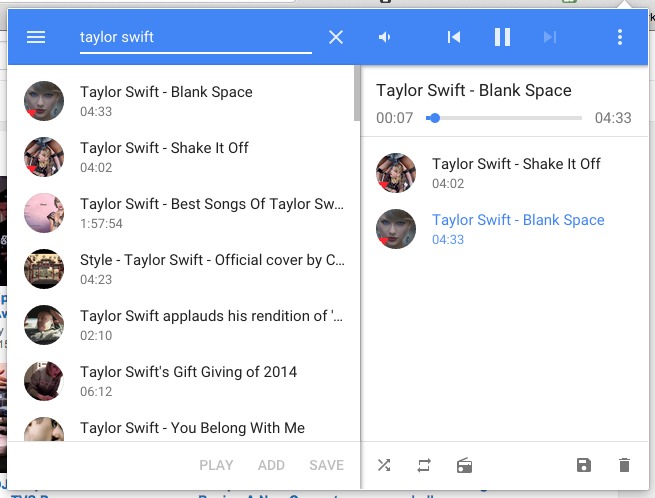 YouTube is great for one for reason and one reason only – hosting a massive amount of videos. Late last year, YouTube launched its music platform which offered subscribers unlimited amounts of music for $7.99 per month. Streamus is the new Chrome extension which gives you the freedom to stream music without having to pay. Search your favorite songs, create playlists, and play songs all day – without ever accessing YouTube directly.
If you're like me, you've searched your favorite songs and videos, made your own playlists, added to that and now just hit repeat. It's the lesser approach if you don't want to tack on to your monthly bill. The down side to listening to YouTube videos for music in this way is advertising – 30 second ads or the rare "skip this ad in 5 second"- its annoying and tedious.
Without having to open YouTube's standard webpage at all, Streamus – a new third party Chrome extension, now displays YouTube music as a popup window in your browser. Working with Google's Material design aesthetic, this Chrome extension displays YouTube as a separate music service like Spotify, Pandora or Google Music. Search for songs through the popup window, add them to your playlist, and jam away without having to open a YouTube tab.
The creator of this extension suggests that he's quit his job to work full-time on the extension and that he's been dedicated to developing the extension over three years.
This extension has other features as well – for example, sharing your playlist with friends via a URL. Streamus also offers a radio service which automatically picks songs and plays them for you. This extension allows you to queue up songs by simply right clicking on them and allows you to avoid the ads you'd normally have to deal with on YouTube.
Download Streamus for free if you find yourself on YouTube all the time searching for and listening to music. The extension only works with Google Chrome. Simply search any song you like, click play, and head back to surfing the web, while the music bumps in the background.
SOURCE: Streamus
VIA: TheNextWeb