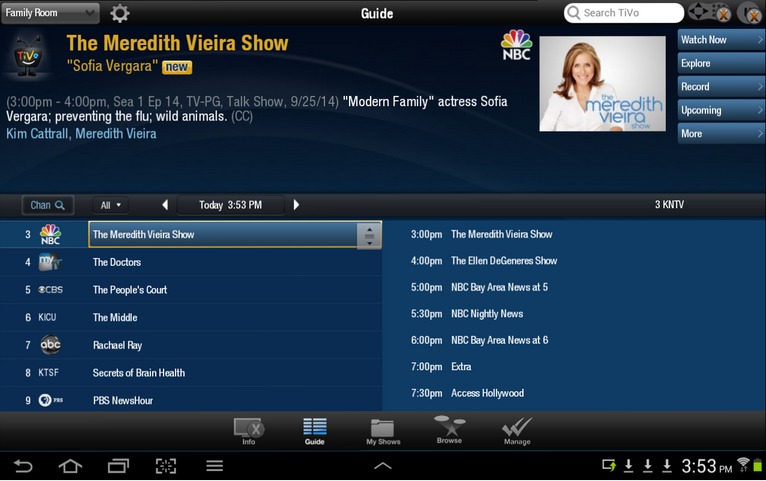 You've TiVo-ed the latest episode of Game of Thrones, but when you were supposed to watch it, you fell asleep because you were so tired from work. You wanted to watch it while commuting to work the next day but you can't very well bring your Tivo machine while on the subway or bus. The new update to the TiVo app for Android will solve that problem for you as it will let you stream shows you've recorded on your Tivo.
So yes, you can now watch the kingdom of Westeros fight over the Iron Throne or any of the shows you've recorded. The app can now stream these shows onto your tablet or smartphone so you can access it anywhere you are, whether commuting or sitting in a cafe or on your break at work (just make sure you're really on a break). Just browse through the list of your recorded shows and choose the one you want to view while sipping your coffee or even standing on the train. But not all content can be streamed though as it depends on the show's copyright protection or technical limitations
Aside from this streaming function on the new update, the app also has been serving as a second screen for when you're using Tivo at home. It can look at the channel guide without interrupting the show you're currently watching or recording. You can also use it as a research device as it will bring up information about the show and the cast while you're watching on your TV screens so you won't lose sleep trying to find the name of that guest star whose name eludes you.
The Tivo app update has already started rolling out starting September 30. You'll only be able to enjoy the streaming on the go feature if your device is running Android 4.1 and above. You can download Tivo app from the Google Play Store if you don't have it yet.
SOURCE: TiVo