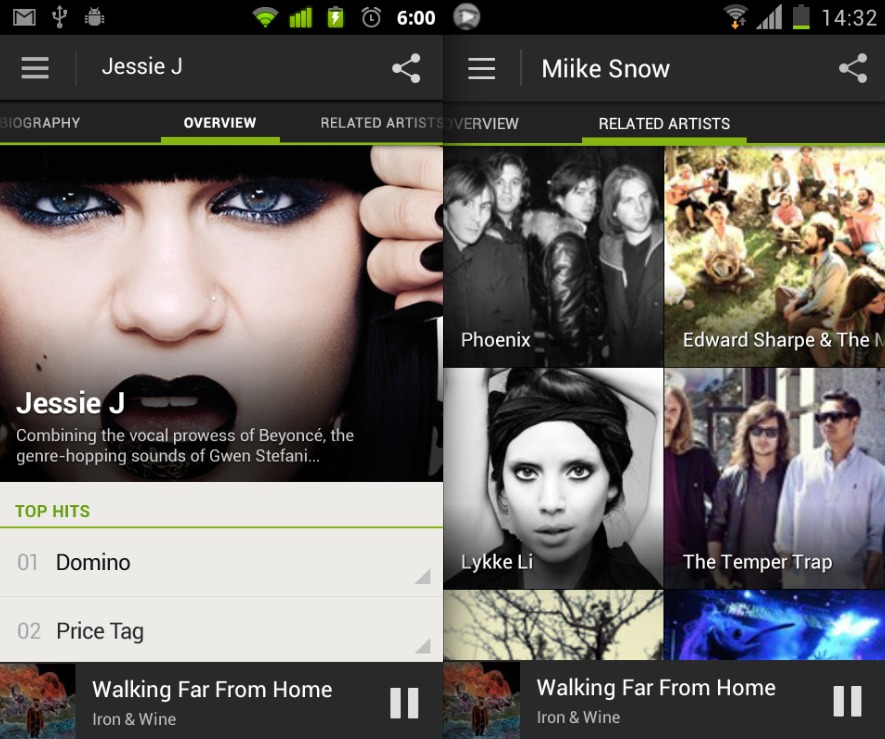 The popular music streaming service Spotify is about to finally get a much needed, much anticipated update. We suspected an update was coming earlier this month and now can happily report that it will be available later today in beta. Spotify has completely overhauled their Android app with full Android 4.0 Ice Cream Sandwich support as well as an impressive ICS theme too. Spotify is calling this a "top-to-bottom" app update and redesign that users will love.
While the new UI and design is the first thing you'll notice, Spotify wants it to be known that under the hood they've added a brand new music discovery engine that will help Premium users discover awesome new music and artists — since we are here for the music and all right? I like their screenshots that is for sure. Temper Trap's Sweet Disposition (and Down River) are great songs. Premium users can enjoy this new app for Android with tons of improvements over the old and outdated design. First off you'll notice the Android 4.0 ICS design elements, then you'll quickly notice the album artwork is displayed in high-resolution. A welcomed change with all the HD phones and tablet screens on Android.
Spotify has introduced a quick and easy slide-out menu for navigation and a quick menu option nicely themed to go right along with the latest version of Android. The image below shows how convenient both will be. A quick swipe toggles the slide-out navigation option and the quick menu floats over the top of searches, playlists, now playing lists and more.
Obviously looking at the images provided you can clearly see this isn't a minor update, and just like mentioned above we have a completely overhauled top-to-bottom design change, for the better. The related and similar artists view has been improved, and Spotify has opted to add social aspects too with users being able to look up fellow users profiles and see their favorite music.
For now this impressive new Spotify for Android app is in beta, and will be available officially on the Google Play Store sometime soon. For those looking to enjoy it today you'll have to be a Spotify Premium subscriber (sign up here), and it will be available later today on Spotify.com so stay tuned for download links and full details. If you're interested in trying out Spotify you can sign up with the link above, or check back shortly for our full review of the all new Spotify for Android app.