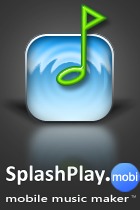 SplashPlay is now available in the Android Market for guitar players everywhere. While the application title does portray that it is geared around music, it does not do the application justice. SplashPlay claims to have people strumming away to their favorite songs in minutes.
For those of us who have always wanted to learn how to play guitar here is our chance. SplashPlay offers a new generation of learning to play the guitar. Only G1 owners have the ability to interact with videos giving them exclusive features. Getting started is easy, just attach the pod and light panel to your guitar and download the software.
Share and learn music on different instruments using the SplashPod and a paper-thin light panel.
Combines freely available tutorials with optionally available hardware.
Learn songs or chords wherever you want, on a bus or train or even in your tent at a music festival.
Use the phone to wirelessly control the light panel using Bluetooth.
This application is very portable, SplashPlay sends information to the pod from a mobile phone or computer using a Bluetooth connection. Some features SplashPlay also offer include a guitar tuner, metronome and hands free Bluetooth foot pedal. The guitar version of SplashPlay is scheduled for early 2009, shortly followed by light panel releases for the keyboard/piano, drums, violin and many other instruments.