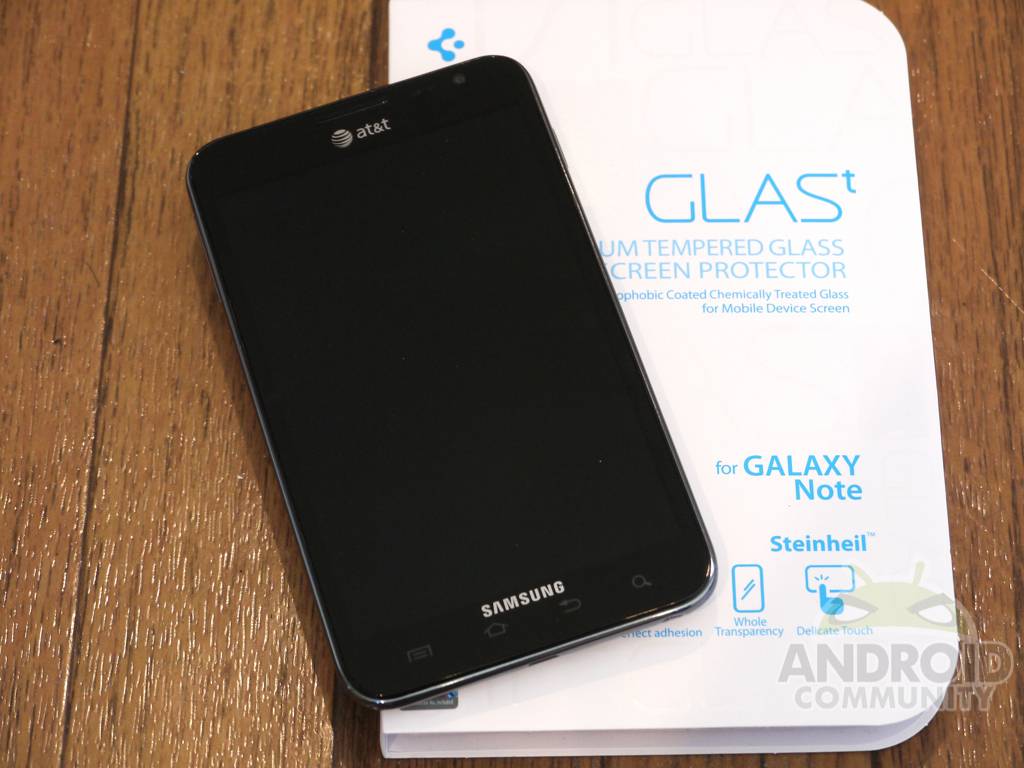 Cases and screen protectors come by the handfuls for smartphone but today we some new and unique screen protectors and cases from the company Spigen. No longer do you need to rely on a cheap thin screen protector. With Spigen you cover that large and precious smartphone screen with the next best thing — another layer of hardened tempered glass. Below you'll see our hands-on video, thoughts, and installation on the GLAS.t screen protector for the Galaxy Note.
Spigen offers accessories for many devices but today we are focusing on the Samsung Galaxy Note. Along with multiple ultra thin cases you'll see in the video below is their Capsule Series that is a thicker, more sturdy case for added protection. Then we also have the most impressive of their selection in the GLAS.t screen protector. Many covers are cheap, plastic, or other materials that don't stand the test of time. With the Spigen GLAS.t you actually add an additional layer of strengthened glass to the device for ultimate protection.
The sizes vary but as shown above they are so thin it's hardly noticeable. for the Galaxy Note this 0.04mm thick hardened glass will go on with ease, and protect that precious 5.3″ screen from damages. If you do manage to get a scratch, it will be on the Spigen and not your actually screen. This is what we'd call a premium screen protector. Check out our hands-on details and installation video below to see just how nice, and simple the GLAS.t really is.
Spigen GLAS.t hands-on and installation
[vms ec2cf54d3c161f2dd651]
Next up we wanted to share a few of the awesome cases since they were nice enough to send a few other. They have tons of options, types, colors and more that will really cater to anyone's needs. The Ultra Thin series are $24.99 and come in many different colors are include the usual screen protector (not a GLAS.t) and you can see those in the video.
Then they offer the Capsule series that are slightly thicker and more durable for those harder on their devices, or want that extra protection. The Capsule series is the same price of $24.99 and come in multiple colors. We got white but they also have red, blue, black, glossy black, yellow, and others.
The cases are well built and nicely designed. They fit neatly around all the ports and camera slots and even wrap over the screen enough to add protection should you drop it face first. If you've heard of TPU cases than you'll know what to expect with these. This is a TPU case at its finest. Spigen also offers multiple leather cases as shown in the video below. The Wallet series has slots for credit cards and other things for the business minded individual and start at $44.99. Once I put the phone inside the Leather wallet series I had a hard time getting it out, a good sign that it wont fall out on accident so these are excellent cases.
Spigen Cases
[vms aaa1bc7c599473f5dddd]
Overall I was extremely impressed by both the quality, and the feel of all their cases although the fake leather wasn't my favorite because it slightly makes the device too large. I like my phones as thin as possible and the Ultra Thin series was by far my favorite (and cheapest). If anything from Spigen interests you feel free to check out www.spigen.com to get your own. If you'd like that extra layer of glass protection for the Galaxy Note you can get the Spigen GLAS.t by clicking here.
[device id=2241]