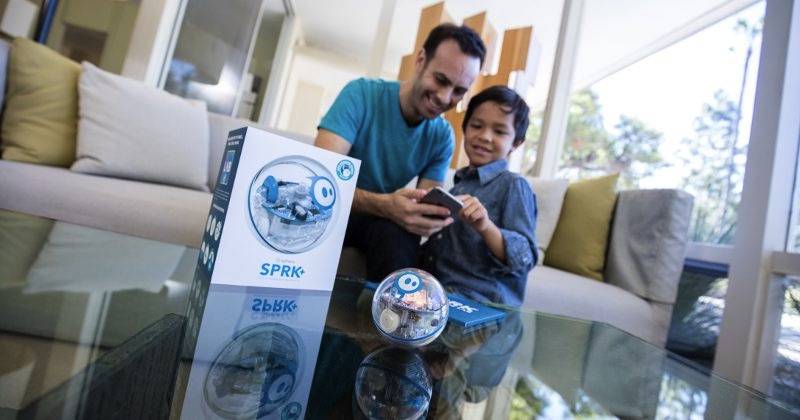 If you happen to be bored with your Sphero BB-8, now is the time to get a new one. Sphero has been making our geeky lives more fun and exciting than ever with their robots and the SPRK+ will definitely make you feel more creative and inspired. Don't think this is just another robot ball. SPRK+ can help teach the students and non-geeks learn some programming through several STEAM activities, as well as, the Lightning Lab app.
Sphero has just announced the SPRK+ will be available worldwide. That means anywhere you are, you can avail of the new robot ball. It works with the Lightning Lab app so you can learn more and understand what robotics is all about. The main goal of this SPRK+ is to introduce people to robotics and computer science. The SPRK+ is considered a learning tool that will benefit students and educators.
At present, thousands of SPRK products are available in over 1,000 schools in Canada and the US. Hundreds of thousands of students, about 300K, have access to those products from Sphero. The company has fully integrated with STEAM to improve on how they work with education and develop hands-on learning. The Sphero SPRK+ has gotten several updates including a Scratch-Resistant Shell and Tap To Connect. The latter makes use of Bluetooth SMART while the new shell provides better protection.
More SPRK+ features have been added like inductive charging, accelerometer and gyroscope, programmable sensors, LED lights, and a Polycarbonate shell. The SPRK+ is also waterproof and shock-resistant now.
SPRK Lightning Lab app was updated recently for desktop browsers and smart devices. You can do a lot with the SPRK+. There are numerous hands-on learning activities you can do. If you're a programmer, you will enjoy coding and will find it easier. You can get the SPRK+ for only $129 on Sphero.com and from other retailers.
Watch the videos below for more preview of the SPRK+:
SOURCE: Sphero