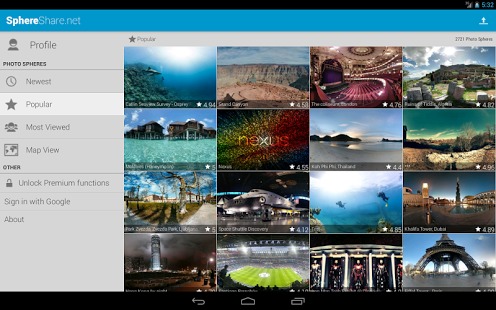 One of the best things that has come out of the proliferation of high-quality cameras in smartphones is, not the emergence of the selfies, but having access to thousands of amazing looking panoramic pictures from all over the world. The SphereShare app for Android is one of the best ones out there, collecting over 24,000 photospheres and putting them into an ecosystem that is easy to search and share.
The app contains full 360° photospheres taken by Android devices that have been shared by hobbyists and photographers from around the world, mostly from Europe for now. Instead of trudging through Google Maps or Google+ to search for that beautiful panoramic shot of Paris at night, you can just search through SphereShare's database and rate your favourite ones. You can also follow users whose photos you always fancy or discover new photographers by viewing the most popular photo spheres and sharers.
Or if you're an aspiring travel photographer yourself, specialising in taking panoramic photos of places you visit, then this is a good app to showcase your work. You can easily share photos from your gallery or other photo-taking apps onto SphereShare and manage which ones you want to remain private and which you want to add to the World Photo Sphere Map.
The app is available for free at the Google Play Store, but of course with ad boxes at the bottom of almost every page. If you want an ad-free space, there is a paid premium option available. Premium users can also download the photospheres directly to their device's photo gallery, so if you like having an actual copy of these photos, then you shouldn't mind paying a little extra.
VIA: SlashGear