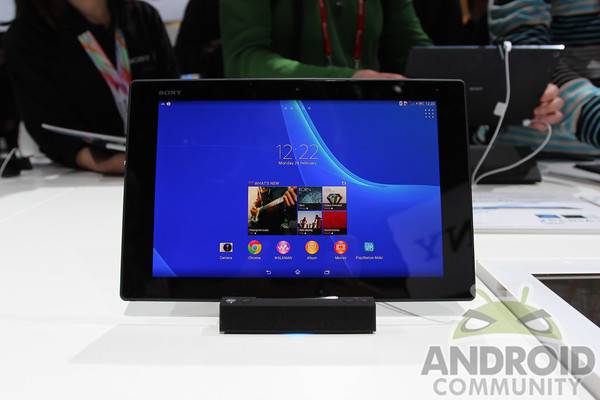 With the Sony Xperia Z2 tablet, a lot was promised. In a lot of ways, it's a blown up version of the Xperia Z2 smartphone. In others, it's a fantastic tablet in its own right. It's also a Sony, so you know it's going to have a stellar build and outstanding feature-set. To find out just what makes it so special, we go hands-on with the Xperia Z2 tablet at MWC.

To start, the Xperia Z2 table is exceedingly light — and 6.4mm thin. Sony has done an outstanding job of packing a lot into such a slim case, and it almost seems to be nothing more than a screen. At 8.4mm thin, the Xperia Z2 tablet is like nothing we've seen in a tablet so large. It also has a wealth of accessories available at launch, like a speaker dock, magnetic charging dock, and keyboard case.
The big, bold TRULIMINOUS display is a treat, and specs are the same as the Xperia Z2 smartphone, save for the camera. A Snapdragon 801, Adreno 330, and 3GB RAM keep you rolling all day. Sony's also talking up their Stamina Mode for battery life, which alongside Qualcomm's battery saving techniques in their Snapdragon SoC could get you more battery life than you bargained for.
The video below highlights some of the greatness you'll find with the Xperia Z2 tablet. Android 4.4 KitKat right out of the box will make purists happy, and the styling should have just about everyone interested. We'll be on the ground at MWC all week, so stay tuned and check back often!