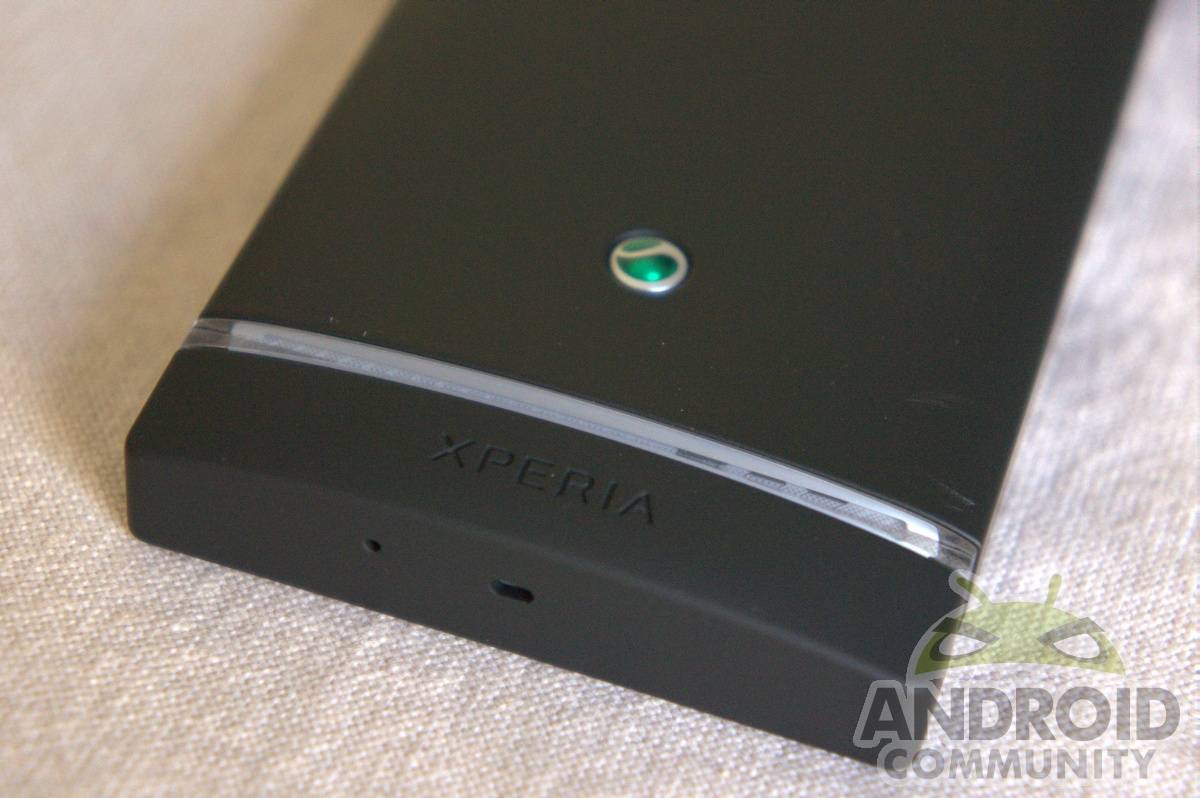 Sony released a scattershot of Xperia phones last year, and has decided to take a more measured approach this year, unveiling the NXT series at MWC 2012. That included the Xperia S and Xperia P, but today we'll be reviewing the Xperia U, the smallest and cheapest of the three. That doesn't mean it's lacking in specs, though: a dual-core 1Ghz processor lies at the beating heart of the phone, and it's staggering to think we've reached a point where a budget handset can include such a chip. How does it all stack up, though?
Hardware
The Sony Xperia U is pretty much identical to the Xperia S, sharing the same design but in a smaller chassis. That hard plastic makes a return, although the back feels soft to the touch and is resistant to fingerprints and smudges. The 3.5-inch screen has a 854×480 resolution, and spec wise you're looking at a NovaThor U8500 dual-core 1Ghz processor with Mali-400MP GPU, 512MB of RAM, 4GB of storage, and five megapixel camera with 720p.
Before you get too excited at the mention of a Mali GPU, remember that this is a slower version of what's found in the Galaxy S II and other phones, so don't expect anywhere near the performance. The other piece of bad news is that the phone only comes with 4GB of storage, and there's no microSD card slot. That's pretty bad, and you'll run into problems extremely quickly even if you just add music to the phone. The upside is that USB OTG does function properly, so you're not completely stuck, but having a USB cable dangle off your phone for extra storage is hardly an ideal solution.
The display on the Xperia U is a mixed bag. It's plenty bright, and the viewing angles are generally decent, but tip the phone past a certain point and you can invert the image being displayed. There are three problems with the screen, though. First, there's no oleophobic coating. That means you're going to be looking at a very messy screen very quickly, and it's hard to clean properly without a dedicated cloth. Second, if you're particularly sensitive to screen quality then you'll be able to notice the strange texture and odd colorization of the display on light colored backgrounds. Finally, you can see the digitizer grid just below the screen when shifting the phone against certain colors like yellow and white.
microUSB is found on the left side of the phone, and power, volume rocker, and a dedicated camera key are on the right. The 3.5mm headphone jack and microphone are on top, and another mic is located on the bottom. Speaking of the bottom, the cap can be removed and replaced with different color covers. All we have to say to this is: why? Otherwise you're looking at the same clear antenna strip that you'll find on the Xperia P and the Xperia S, which also lights up on certain notifications and alerts. You can change the color the strip using the different Themes that Sony provides in the Android settings.
Software
Just like the P and the S, the Xperia U ships with Gingerbread instead of Android's latest and great, Ice Cream Sandwich. Sony has promised an update for the handset in the future, but it's still disheartening to see ICS missing. If you're familiar with the software modifications that Sony has made to previous Android handsets, then you pretty much know the score with the U as well.
There is a little bit of bloatware bundled with the device – McAfee, OfficeSuite, WisePilot – and a few other included apps like WhatsApp and Astro File Manager. All of them can be uninstalled without any issues, allowing you to claw back some of that precious 4GB. Otherwise, expect to see Sony's own apps, including Music Unlimited, Video Unlimited, Track ID, Media Remote, and Play Now, which is Sony's app store. There isn't anything too exciting on there, with a lot of apps carried across from the Play Store.
The software keyboard looks daunting at first given the small size of the display, but we didn't have too much trouble with it. Mistakes were few and far between, although the keyboard did lag on occasion with haptic feedback left on. We personally didn't have any issues despite the horizontal resolution, although those with larger digits may struggle.
Performance and Benchmarks
Sony has managed to achieve quite a feat with the Xperia U, slotting a NovaThor U8500 dual-core 1Ghz processor and a slower Mali-400MP GPU into the device. General performance is good too: flicking around homescreens and through apps is smooth, with very few instances of stutter or lag. Web browsing is good too, with pinch-to-zoom and double tapping resulting in smooth transitions. The phone did have to catch its breath occasionally on heavier webpages, or those with Flash, but overall we'd say it performed admirably.
Benchmarks seem to back that up too. It doesn't blow the doors off by any means, but it does seem to be beating everything in this price category. Quadrant gave us a result of 2204, SunSpider 0.9.1 achieved 2526ms, AnTuTu returned 5359, and NeNaMark 2 scored 29.2fps.
Camera
The five megapixel on the Xperia U is decidedly middle of the road. It can take some nice photos in the right circumstances, with good colors and detail, but noise reduction seems to be ever present in photos. In good lighting conditions, it's not too much of an issue, with only occasional splotches as minor noise is dealt with. In poorer conditions, however, the noise reduction ramp up, smearing images and taking detail out along with the noise. Otherwise, we didn't have any major complaints. It's a competent shooter, just don't expect miracles.
Taking photos is a bit tricker. The two-stage dedicated camera key on the side of the phone seems awkward to use, with the first press being a little too light, and too much effort needed to press the button all the way down to take the photo. Tap-to-focus is missing in the camera app too, so if you want to focus and meter the shot before you take one you'll have to hold down either the on-screen camera key or task a risk with the physical button.
The 720p video recording, however, is horrendous. The H.264 Baseline L3.1 clips have an average bitrate of around 6Mbit/s, but you wouldn't know it. Clips are filled with compressions artifacts, with textures obliterated and scenery swimming in macroblocks. Sharpening creates awful halos around the edges of objects, and the jelly effect is in full force, so any quick panning or fast moving vehicles will result in distortion.
Battery
The 1,290mAh battery sounds small, but its definitely a champ when it comes ot performance. A video battery rundown test took a 720p H.264 High Profile L3.1 with AAC video and played it on loop with screen brightness set to 100%, and headphone volume set to 50%. After 4 hours and 37 minutes, the phone automatically shut down.
In typical usage, the Xperia U can easily get through a full day, and if you're a light user, you'd be able to push two without any issues. Our usage is admittedly light, with only one push email account, some WhatsApp/texting, and occasional browsing, but even heavier users won't have any problems getting through a full working day.
Wrap-Up
The Xperia U sounds like a very average device: it doesn't do anything particularly well, but it's not a bad phone at the same time. What makes the phone interesting is the price point that Sony is hitting. Three UK offer the phone for £180, which brings it in cheaper than the HTC One V while offering a slightly higher screen resolution and faster processor. There really aren't any phones around that price point that have a dual-core processor either.
Having said all that, there are some niggling issues that will irritate some users. The display is the big one, and while I imagine most people will be perfectly content with the screen, others will be frustrated once they notice the panel funk and digitizer grid. Kudos to Sony for blessing the phone with a sensible 854×480 resolution when so many other phones in this bracket don't even match that, but otherwise the HTC One V's display is much, much better.
If you're on a tight budget but want the best performance your money can buy, the Sony Xperia U is a safe choice. Users need to be wary about the lack of storage space, however, as 4GB will disappear very quickly, and if you can stretch your budget just a little bit more, the HTC One V has more going for it despite the single-core processor.