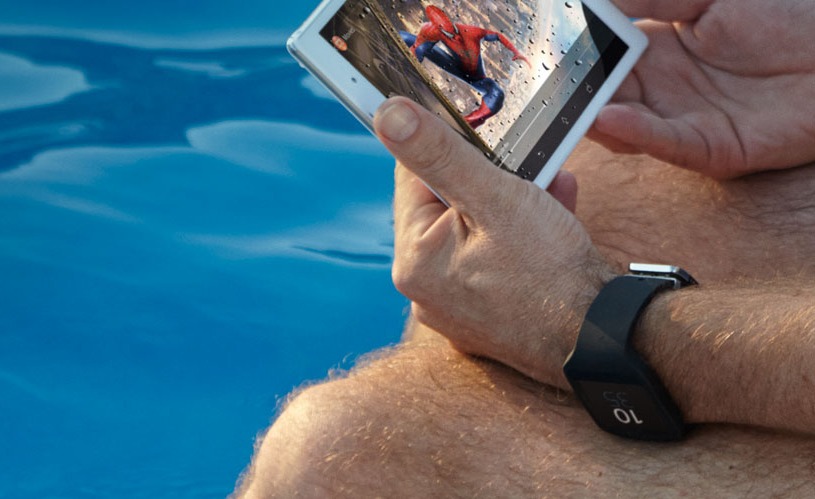 As IFA 2014 in Berlin draws ever nearer, we are anticipating the big players to make major moves and launches as far as new products are concerned. Sony will be most likely one of those, and we are expecting to see its new flagship phone the Sony Xperia Z3, an Xperia Z3 Compact smartphone, and an Xperia Z3 Tablet Compact. The latter may have just been teased over at Sony's Xperia Facebook page, together with a smartwatch device.
The rumors say that the Xperia Z3 Tablet Compact will be an 8-inch tablet powered by a Qualcomm Snapdragon 801 processor, an ample amount of RAM at 2 or 3GBs, and most likely 1080p full HD resolution. Sony is known for its premium quality gadgets, and this would surely be a string lineup to highlight at IFA 2014.
The Sony Xperia Facebook page recently highlighted an app called "SmartBand Summer School" which showed off products that were inclined towards the summer season. Among the pictures was a poolside image highlighting a small tablet device and a smartwatch. The assumption to be made, of course, is that both products are water resistant.
The information about the Xperia Z3 Tablet Compact have been scarce, and so this will be one of the main highlights for Sony in Berlin. And a new smartwatch too? Well, we have not heard a lot about that as well, and if they're bringing it to IFA, then we'll all be in for a treat.
SOURCE: Sony Xperia Facebook page