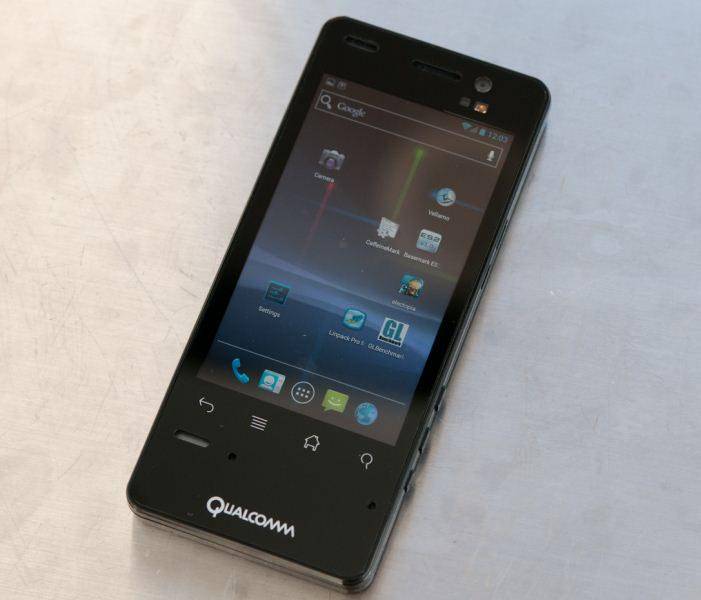 When it comes to ARM-based processors and the speed demons who use them, Nvidia has captured nearly all the buzz at the moments with its quad-core Tegra 3 platform. But Qualcomm isn't resting on its laurels: the chipmaker is showing off the latest and greatest in its Snapdragon line, the S4. When Anandtech tested out the new chip inside a Quualcomm developer device, they concluded that it was "the absolute smoothest we've ever seen Ice Cream Sandwich run" – high praise indeed, considering how some users of ICS have complained about its performance on current-generation hardware. A device equipped with a 1.5Ghz dual-core S4 in a 28nm configuration blew past the competition in controlled tests.
In standard CPU tests, both of the new Snapdragon processors sailed past current-generation devices with an average speed of about double the Galaxy S II, and considerably more for older devices. The results for Linpack's multi-threaded test, which takes advantage of multiple processor cores, was even more dramatic. Browser tests showed a speed increase of 20-30% on TI's OMAP 4 platform, And Qualcomm's own Vellamo test (naturally) showed the S4 beating out the nearest TI competitor by almost 2.5 to one.
Unfortunately, the Krait model of the Snapdragon S4 uses an older Adreno 225 graphics processor, not the newer 300 series. Even so the S4 managed to meet or beat all Android comers by a small margin in every test ,with the exception of the Samsung Galaxy S II, which won in an offscreen GL Benchamrk Pro and RightWare test. In all cases, the iPhone 4S stomped Qualcomm's platform, and just about everything else, too.
Newer Tegra 3 devices like the Asus Eee Pad Transformer Prime weren't part of the Anandtech testing procedure, which naturally leads us to wonder how they'd stack up. Even so, it shows that despite modest performance gains in the last year or so, Qualcomm isn't interested in losing its lead in the SoC market, and wants to get back into the performance side of things. We'll see how the S4 and its competitors from Nvidia and Samsung a few months after Mobile World Congress.