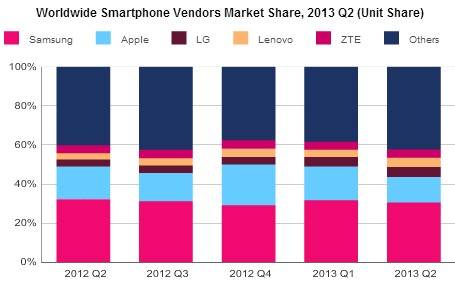 IDC has published its latest quarterly smartphone shipment numbers, which shows an overall increase in global device shipments of 6-percent over the same quarter last year. On an interesting note, part of this growth was attributed to atypical shipment numbers for handset makers outside of the Top 5, including Huawei and Alcatel.
Overall global smartphone shipments for the second quarter of this year came in at 432.1 million phones, which is a notable increase over Q2 2012's 407.7 million. The non-top 5 smartphone makers, meanwhile, saw sales increases that outpaced the overall market, in some instance with double-digit and triple-digit increases.
Samsung, according to IDC, had shipments totaling 72.4 million for the quarter, while Apple came in second with 31.2 million in shipments. The rest, listed in order of quantity, were LG, Lenovo, ZTE, and then the rest. Overall, the non-top 5 handset makers represented a total of 44.8-percent of shipments versus 42.2-percent year-on-year.
IDC's Mobile Phone Research Manager Ramon Llamas said: "While Samsung and Apple accounted for significant share of the overall market, they were not the only vendors active in the high end of the market, and recent device introductions and upcoming launches signal more vendors targeting this space. Comparisons will certainly be made to the flagship Galaxy and iPhone models, but clearly the competition refuses to be shut out altogether."
Not surprisingly, Samsung is still dominating the market, and Apple is next in line, something that probably won't be changing any time soon. IDC notes that the rise in sales among those outside of the top 5 are in part due to increase demand in India and China, and that there's "ample opportunity" for smaller makers to bring their wares to the market.
SOURCE: SlashGear