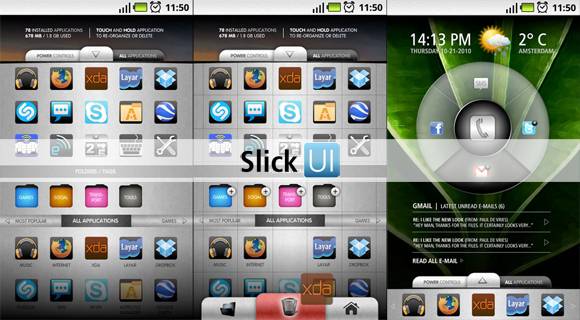 Gorgeous! Look at the loveliness that's been brewing in the creation boxes of the conceptual workers working on "Slick UI"! This Slick UI is similar to other apps such as LauncherPro or ADW in that it's a homescreen-replacement launcher made to pretty-up and function-up the homescreen of your Android-based device. It aims to make your whole experience more "silky smooth, functional and highly customizable."
Work JUST began on this project, and it already looks just splendid. Look at the couple preview pics above and the video below. The folks in charge of creating this magnificent beast will need testers in the future, which means YOU!, so get your finger clickers out and get ready to test, but also get ready to ask for what you'd like to see in an app such as this.
[youtube]http://www.youtube.com/watch?v=5Ohk-hz2hTA[/youtube]
The video you're about to see has a couple slides, a couple glances at what this app will consist of. It'll have such things as the lovely app-drawer, customizable dock, and customizable content-wheel (called WonderWheel). And if you'd like to help out in any way other than in graphics (already taken care of by user Caemgen,) head over to the thread at XDA Developers and lend a hand.
[Via XDA Developers]