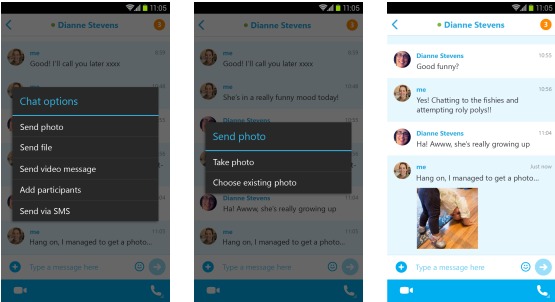 Have you ever had that moment when you really really needed to share a picture of your baby's first steps or your cute puppy's antics, but then the friend you wanted to send them to is not online? Well, if you're using Skype to communicate with your loved one, then that will not be a problem at all. The app's latest update now allows you to share photos to offline contacts, among other new features and improvements.
Before, both you and your Skype contact needed to be online for you to be able to share your photos. But now version 5.2 of the video conference and messaging app allows you to upload photos and send it to your contact even if they're not signed in. When they reconnect with the app, they'll be able to see the photos you sent them in your conversation history, even if you're the one that is offline this time.
There are also other improvements included in the update. For one, the app on your smartphone now also allows picture in picture review, which means you can continue the video conversation you're in, even while you need to do other things on your device, like check your Twitter feed (if you're bored) or Google something to win your argument with your friend. There are also improvements in terms of the call quality, even if you have low bandwidth, and the chats load faster when they're opened from the notification.
While messaging apps like Viber, WhatsApp, Hangouts, etc, have included video calls in their free services as well, there's still a certain segment of the mobile market that relies on Skype to communicate with loved ones. If you're one of those that are loyal to the app, you can update to the latest version through the Google Play Store.
SOURCE: Skype