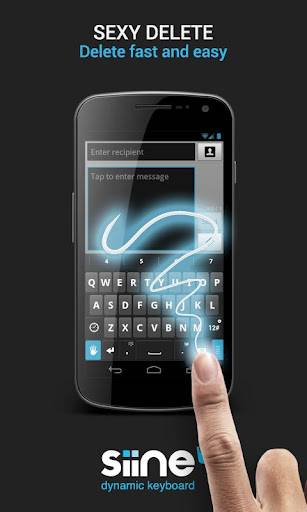 Custom keyboards are nothing new in Android although it seems like many offer similar functions, change themes, or simply suggest words faster than others. Today we have a brand new keyboard for Android called Siine that was just released and actually has some innovative and new features that had me extremely impressed. Check out the images below, and the video demonstration really shows how neat this keyboard can be when using familiar icons to type faster.
Along with a decent keyboard layout that is extremely similar to Android 4.0 ICS keyboard only larger, this actually has tons of shortcuts and features that while can be a little clunky at first — make texting and writing extremely quick and easy. Using a single tap can bring up a calender for easily adding full wrote-out dates like "March 10th" to a text with a single click rather than typing the entire thing.
With plenty of personalization the icons make things easy and you can even quickly say, "Hey Dude, what's Up? You coming over to watch the game?" in a matter of seconds (1:50 in video). I can see this having quite the learning curve and upon first installing it I feel things are a little clunky. Once I use it for the next few days I'll be sure to report back on if this can be my daily replacement or if all these awesome features make things a bit too difficult.
With a built-in clock and calender to easily and quickly add times and dates to texts or emails, full emoticon support, custom icons creation and more they really have a wide array of options — almost too many. Sexy delete is a feature where instead of holding down delete you squiggle your finger on the display and it quickly erases the entire message. I like it.
Siine is available now and completely free, although they do have a store where can get more features but it comes pretty feature packed already. Get it now from the Google Play Store (Android Market) at the link below and let us know what you think.