The SanDisk Ultra Dual USB Drive has been announced this morning. Essentially, this is a flash drive with a microUSB port on one end, and a regular sized USB port on the other. The drive works in connection with the SanDisk Memory Zone app, and is touted as being "the easiest way to free up space on your phone or tablet." With that in mind, the folks at SanDisk sent a unit over in advance, which means we have already had a bit of hands-on time.
We'll admit, we often find ourselves looking toward the cloud, or the age-old email to yourself for quick file transfers. Those methods both work just fine in most situations, however there may be a time where you are sitting in a place with limited connectivity, or a time when you want/need to transfer a large amount of files. While those aren't the only use cases, those are the times the Ultra Dual USB Drive has proven most useful.
The SanDisk Ultra Dual USB Drive may also come in handy for those with limited internal storage. And more specifically, for those with limited internal storage, and no memory card slot for expansion. You see, used along with the Memory Zone app, the drive makes it rather easy to remove files from your smartphone or tablet. To that point, the Ultra Dual USB Drive is available with up to 64GB of storage space. For reference, the unit we had for testing was 32GB.
You will need to download (and install) the SanDisk Memory Zone app from the Play Store. But once that is done, using the drive is rather simple. This setup works with a Mac or PC, and in terms of Android support, you should be looking for a device with USB on-the-go (OTG). SanDisk provides a full list of supported devices at www.sandisk.com/dualdrive, however many of the popular handsets including the HTC One, Sony Xperia Z, Samsung Galaxy S4, Galaxy S III, Galaxy Note 3 and Galaxy Note II are supported.
In terms of using the drive. Once the app has been installed, it will automatically launch when the drive is connected. As for the SanDisk claim of it being "the easiest way" — we sort of have to agree. Simply put, you can access and manage files stored on the drive as well as from the device all in one location. To clarify, the device storage includes internal and memory card. SanDisk also allows you to add cloud accounts to that mix. Basically, the Memory Zone app turns into a rather decent file manager.
The app also offers password protection (on the Android side). Another perk, albeit simple, was the lack of a cap. Instead of having a small cap that needs to be removed, SanDisk has this setup with a translucent sliding cover.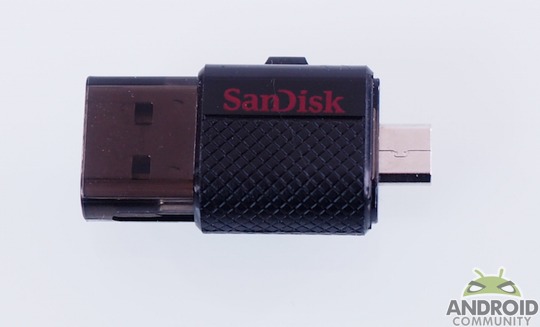 In our time with the drive, we found it rather simple to move content from your device to the drive itself, and also the other way around. It proved itself useful quite a few times. And perhaps equally important was the build quality. The drive is on the smaller side, which does bring a bit of potential for loss, however it feels strong enough where we weren't particularly worried about breaking it.
The one drawback we came across was the speed. The drive performed well enough in day-to-day use, however the Ultra Dual USB Drive is USB 2.0. There was some comfort in knowing SanDisk is a trusted name, however some of the competition in this space already have options with USB 3.0.
Bottom line here, if you are often looking to move bulk files from your device to computer, or computer to device, the SanDisk Ultra Dual USB Drive may be an option to consider. With that, we leave you with one other potential use case. This will likely come in handy if/when you need to help family or a friend free up some space on their Android device. Or alternatively, as a way to help that same person grab their images in bulk and move them to a computer for safe keeping and backup reasons.
The SanDisk Ultra Dual USB Drive is available from today and priced from $19.99 to $49.99.