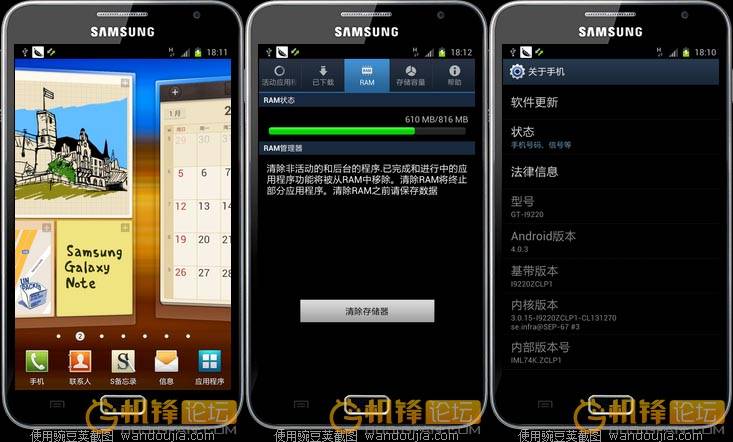 We've known for some time that Samsung intended to upgrade its gigantic flagship to Ice Cream Sandwich, and it looks like work is well under way to do so. A new alpha ICS ROM for the Galaxy Note has been posted to XDA Developers, and it looks like it's an official Samsung release (complete with TouchWiz). The ROM was spotted on a Chinese forum. Don't boot up your recoveries just yet, Note users: this software only works with the I9220 model number, and it's localized for the Chinese market. The standard international GSM version, and presumably AT&T's version set to go on sale on Sunday, are not supported. Flashing to these devices may brick them.
The ICS build itself is in the very early stages. Early users are reporting decent but not fantastic performance, and certainly not up to par with the Galaxy Note's Gingerbread software. The file is huge, about three to four times the size of a standard ROM, presumably to include Samsung's TouchWiz additions and custom apps that take advantage of the Galaxy Note's S-Pen stylus. Testers are reporting issues with various kernels, and flashing this ROM without the correct kernel files seems to be a recipe for everyone's favorite modder-themed breakfast cereal: Boot Loops.
Samsung previously stated that the Galaxy Note would see an update to Ice Cream Sandwich in the first quarter. That gives them about six weeks to get it out on time, though that timeframe is almost certainly only intended for the international version (i7000). Who knows when Samsung and AT&T might get together and update the US Note, which will launch with Gingerbread. In the meantime, modders can turn to the aftermarket, where modified versions of CyanogenMod 9 are already available.
[via PocketNow]