There were speculations about the name of this new android clamshell phone from Samsung – people were saying it will be the Galaxy Golden 3 when it showed in China's TENAA. The phone has just been officially launched in China, but it is named the Samsung W2016. Seems like the Korean gadget giant is confident that this number coded name will not hinder the sales of the new retro-type Android phone.
So the Samsung W2016 has dual displays – it has one 3.9-inch WXGA (1024×768) Super AMOLED display on the normal side of a clamshell phone, but it also has one same-sized display on the top side when the clamshell is closed, which is normally the back of the regular screen. We don't yet know how the functionality of the outside screen works, but the images point to it being used as a clock, a media output (movie or video) display, or even one to play games on. Logic will say that it can be used like a regular touchscreen, but we will have to see if Samsung put some restrictions via its TouchWiz interface.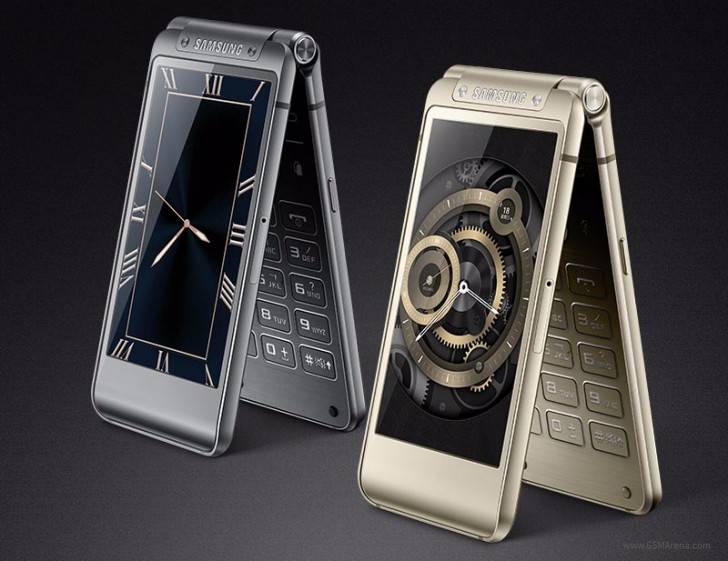 The phone is powered by an octa-core Exynos 7420 chipset, supported by a generous 3GB RAM. It runs Android 5.1 Lollipop underneath TouchWiz, and has support for 4G LTE, dual SIMs, and wireless charging/fast charging for its small-ish 2,000mAh battery. The phone also has a 16MP main camera and a 5MP selfie shooter.
The phone is aesthetically gorgeous, made with metal and glass. The color options are classic, in metallic grey and gold. Hold on for the pricing – at this point, it will supposedly retail in China for around USD$1,565. Are you ready to shell out that kind of money when this baby gets international?
SOURCE: Samsung