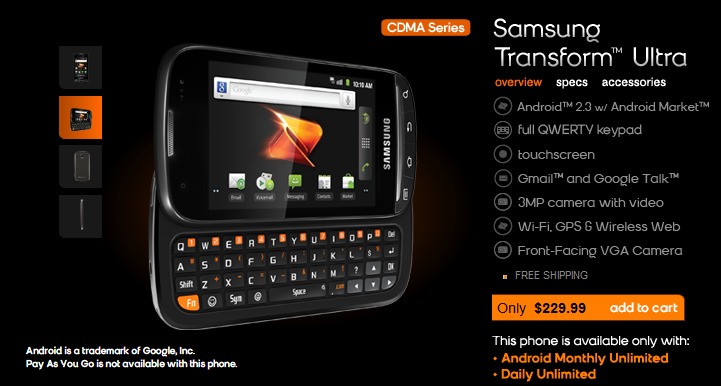 While this is no Optimus Prime, or Nexus Prime for that matter, the Samsung Transform Ultra for Boost Mobile does offer more than what meets the eye. It's like having the DROID Charge but with a full QWERTY keyboard and no Verizon 4G LTE, oh and it only costs around $230 too. The Transform Ultra will be the new top-tier flagship offering over at Boost Mobile and it is available starting right now.
With Android 2.3 Gingerbread, a 4.0″ display, 1 GHz single-core processor, a 3MP camera on the rear and front for video chat all helped out by a full QWERTY keyboard this smartphone gives users almost everything they need, expect no dual-core sadly. We can't argue with that price though right guys? You can get this decent well rounded smartphone for just $230 total, no contract required and no dealing with the autobots either.
The Samsung Transform Ultra is very similar in all aspects to the original Samsung Galaxy S, which was a top tier device not too long ago so this makes for a great price just a few months later. If Samsung smartphones with full QWERTY keyboards or no contract pay as you go plans are what you are interested in, head over to Boost Mobile and pick this up today.
[via Boost Mobile]