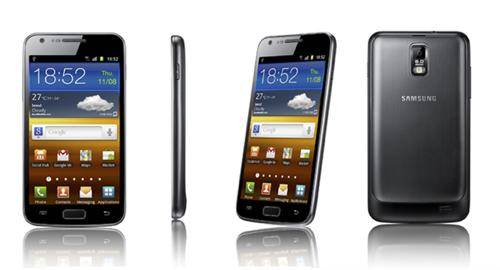 We are hearing a few different things here as of late and now new reports are stating that Samsung is all set to unveil a new and upgraded Samsung Galaxy S II device, or maybe the Galaxy S II Plus. I can't see this happening when the U.S. still hasn't even received the SGSII to begin with but we are hearing an upgraded model rocking 4G LTE and more will be announced.
We are hearing the new upgraded model will feature a few very welcomed changes although the original was still a beast and one of the best phones around as it was. The new details are claiming a speed boost and we will see a 1.5 Ghz dual-core processor, as well as 4G LTE inside. The screen will be bumped up to 4.5″ and feature the new Super AMOLED Plus display but we aren't sure on resolution but 1280x720p would be nice. It's being touted to be the world's first LTE/WCDMA/GSM multi-mode phone and even come with NFC capabilities too.
According to Sammy Hub, it has a slight redesign and will feature a nice brushed aluminum rear rather than the usual plastic cover. Then that all important 4G LTE speed is also on board. This not only sounds like, but also looks like the recently leaked Samsung Celox 4G LTE (pictured below). It had a larger display and that brushed metal back, the only problem I'm unsure about is the 4G LTE. Yesterday reports confirmed that Verizon would not be getting the Samsung Galaxy S II and they have a stellar line-up of phones and didn't need it. So who would get this new Galaxy S we are about to hear of?
It could be an upcoming device launching on AT&T but they are still at least a few months away from having an up and running LTE network worth launching a flagship phone on, so all these details coming in seem to only make things more confusing. Either way a Samsung Galaxy S II or III with a larger screen, faster CPU, 4G LTE, and some brushed aluminum instead of cheap plastic build quality sounds amazing and I'd happily toss that in my pocket.
[via Sammy Hub]