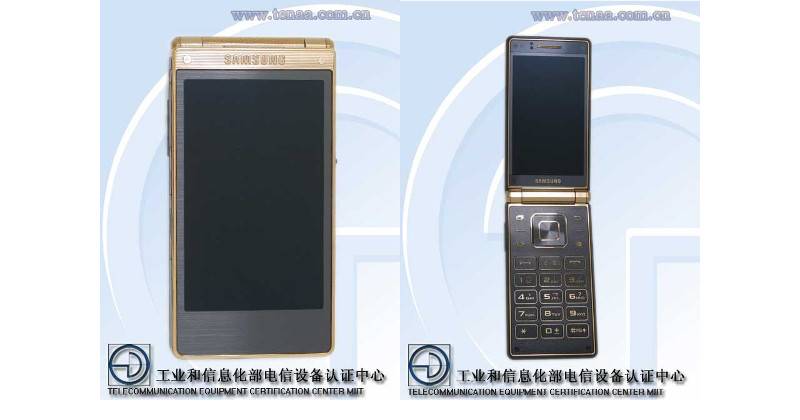 In keeping with what seems to be a yearly tradition already for Samsung, a page from TENAA's site shows that there will be another dual-sim flip phone that will be released exclusively in the Chinese market. The unnamed device might be called the Samsung Galaxy Golden 2, after last year's Galaxy Golden. The specs were posted on the site of China's own version of the FCC, so more or less those will be the final ones for the device, which is temporarily called the SM-WC2015.
According to the TENAA page, the flip phone will have two 3.9-inch AMOLED display screens, with both sporting a 768×1820 resolution. This is a slight improvement from the 3.3-inches and 320×480 of last year's model. It will be running on Android 4.4.4 with a 2.5GHz quadcore Snapdragon 801 processor. In terms of memory, it will have 2GB RAM and 16GB internal memory, with space for a 64GB expansion card. The main camera will have a 16MP sensor while the front-facing one will just have 2MP, but both cameras may be able to record in 4K.
It seems to have just one color which will be, well, gold, given the reported name and its past models as well. It will be launched through carrier China Telecoms, and just like the other incarnations, this will probably not be released in European and North American markets. The Galaxy Golden was released in Korea in August last year, then in India and eventually China a few months later. The past years, they also released similar dual-sim flip phones through China Telecom as well.
As to why they only release these models in Asia, it may be due to the fact that it's only these markets that have a big demand for dual-sim smartphones. And the old-school flip phone type have a certain nostalgic appeal as well that might not be a selling point in the other markets. There are still no pricing details or availability schedules for the smartphone, or whether it will really be called Galaxy Golden 2.
SOURCE: TENAA