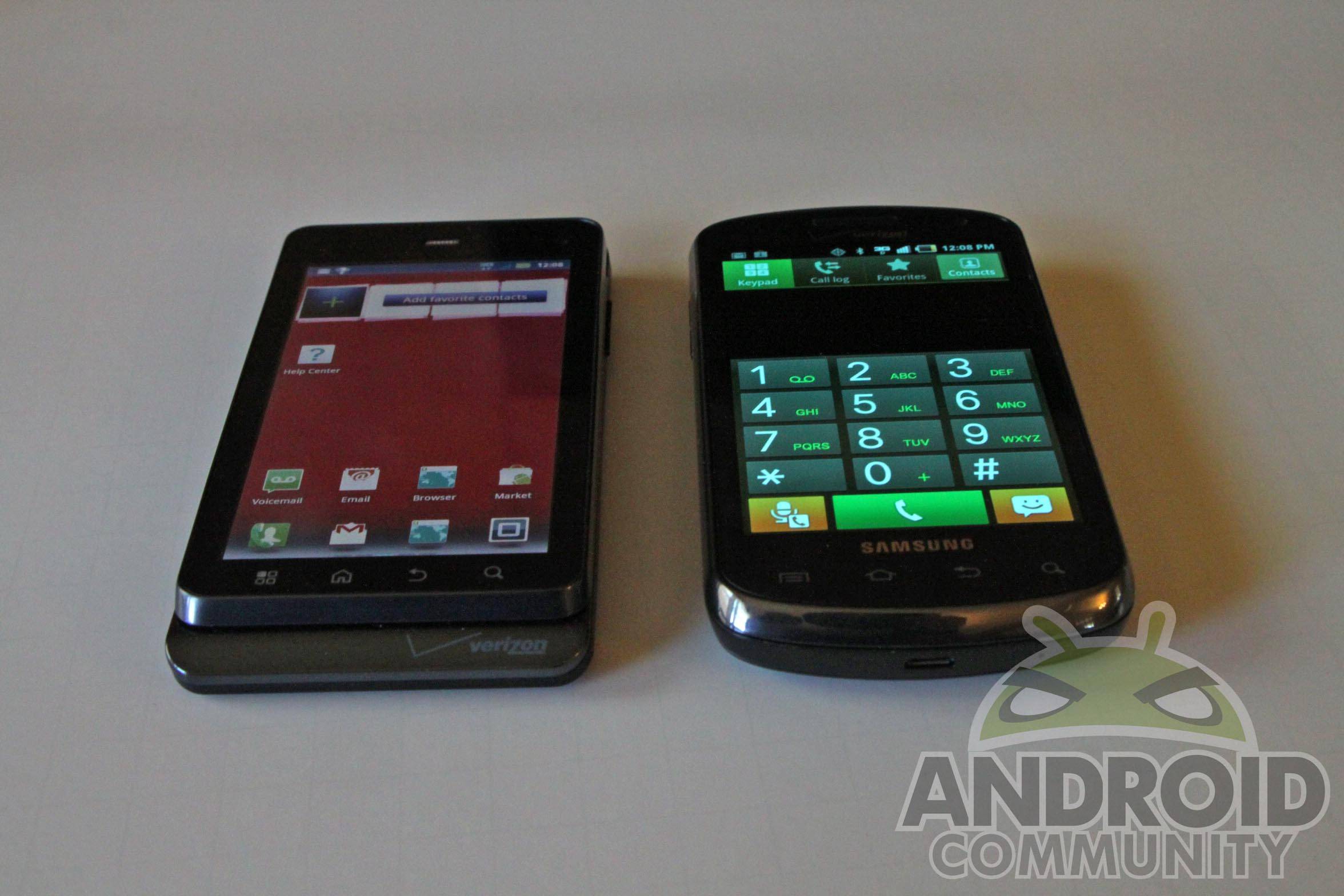 To date there are only eight 4G smartphones available from Verizon, and with the notable exception of the Samsung Stratosphere, all of them are slate-style phones. If you want a keyboard with your LTE, then this is it. The QWERTY slider is very, very similar to the Samsung Epic 4G, with the distinction that it comes on Verizon and features Gingerbread. So, how does it stack up against other 4G phones and QWERTY slider from Verizon? Let's find out.
Hardware
The Epic 4G was technically part of the first generation Samsung Galaxy S line, and it appears that the Stratosphere is following in its footsteps. Though no mention is made of the "S" branding on the phone or the packaging, you can spot a quick logo flash by on the rather long bootup. That being the case, you know what to expect here: 1GHz processor, 4-inch, 800 x 480 Super AMOLED screen, and a good if not great construction. Inside the box you get a data cable, USB charging adapter, the 1800 mAh battery, and that's it. The device's 4GB of internal memory is bolstered by the included 4GB MicroSD card next to the LTE Micro-SIM.
The screen is the same one you've seen on Galaxy S models on all carriers. It's bright and vivid, if not especially sharp by late 2011 standards, but the Super AMOLED panel makes up for its pedestrian 800 x 480 resolution. The sliding mechanism works well enough, even if it's not quite as snappy as the one found on the DROID 3.
The Stratosphere is relatively light in the hand for a chunky 14mm phone. Despite cramming a full keyboard and a big battery in with a decent-sized screen and a sliding mechanism, it isn't much heavier than my daily driver DROID X, and considerably lighter than a DROID 3 in the same form factor. The lack of weight leaves it feeling a little empty, but the extra bulk makes it comfortable to hold in landscape or portrait mode.
The prime differentiator for the phone is the sliding keyboard, and unfortunately, it falls a little flat. There's a lot of space in between the individual keys, making it very difficult to hit the specific key you're looking for at times. I often hit the key above or below the one I was intending, a problem I haven't had on similar phones from HTC and Motorola. Eliminating the number row Treo-style might have helped considering the vertical height issue. At least hardware navigation buttons are included, making getting around Android with a deployed keyboard easy. But on most occasions, I stuck with the included Swype virtual keyboard and saved the hassle.
Software
TouchWiz and Gingerbread are familiar bedfellows. If you've tried your hand at a Samsung phone in the last two years you know what to expect. The lockscreen, homescreen and skin are pleasant even if they tend to ape the iPhone a bit too much (just don't tell Samsung I said that!). Little touches like a link to the task manager on the home button's app switcher are nice, and I found myself using the power controls built-in to the notification bar a lot.
The interface is snappy on its 1GHz processor and 512 MB of RAM. I never had issues opening apps, but the browser tends to get bogged down easily – at one point it refused to open more than four windows after some Flash-heavy surfing. The browsing itself is pretty solid; even on my 3G connection I had snappy response, and plugin support was just fine.
There seems to be a disturbing trend among Verizon phones of enabling Wifi by default, then pushing users into connecting to an open hotspot for any app that uses data. The Wifi switch has even been removed from the power widget to make it less obvious that it's on. I can understand why they're doing it now that almost all customers are capped, but it's sneaky and it drains the battery faster by default. Remember to switch Wifi off on your new phone if you don't intend to use it.
There's a lot of bloatware included on the phone, even by Verizon's standards. Before ever opening the Market I had Kindle, Blockbuster, City ID, Let's Golf, NFL Mobile, Need For Speed, QuickOffice, Slacker, and five V-Cast apps. It looks like they're not messing with the inner workings of the software, which is nice, but prospective owners will be glad to know that a root method has already been found.
Phone and Signal
The phone's reception is solid and call quality is acceptable, if a little bit under what I'm used to hearing. Even at my relatively isolated home, long conversations weren't a problem. What was a problem was a tendency to drop data for long stretches of time. After booting or coming out of airplane mode, it was often five minutes or more before I could connect to data services, despite having a full five bars of coverage. This was very frustrating, as I watched my normal Verizon phone and MiFi connect without issue at the same time.
Speeds were within acceptable ranges for local 3G, and 4G testing proved to be within line for other LTE phones if you're lucky enough to be in a coverage area. Even when connected I sometimes had strange issues getting a particular site or sometimes the Android Market to load. There's clearly a few kinks that still need to be worked out of the Stratosphere's software.
Camera
The Stratosphere's 5 megapixel camera isn't going to wow you, and neither is its 480p video recording. This is clearly a Facebook, Twitter and YouTube-quality photo experience – bring along a decent point-and-shoot if you're wanting some quality shots. The front-facing camera is a nice inclusion, even at VGA quality, and at $150, it's good enough.
Battery Life
This is where the Stratosphere shines. A relatively large 1800 mAh battery seems to run forever on this midrange phone, assuming you stay off of 4G. I managed to get a day and a half of battery life out of it, even though I watched a 90-minute movie in Amazon's flash player and spent a little time taking advantage of the mobile hotspot feature. It's not often I get to say this, but unless you're streaming for five or six hours at a time, I don't see how any normal user could deplete the battery in a single day.
The long-lasting battery alone makes the Stratosphere worth a second look, since it's an unfortunate rarity among Android phones. For those of you who plan to take advantage of Verizon's LTE network, you'll be needing every ounce of juice you can get, and on that score, the Stratosphere delivers.
Wrap Up
Provided that you're on Verizon, you want a 4G phone and you absolutely cannot live without a physical keyboard, congratulations: this is your phone. It's literally your only choice in that market, and unfortunately, it looks like it's going to be that way for a while. That said, the software experience is just OK, and the keyboard is definitely one of the lower sliders we've seen on Verizon. The Galaxy S makes a decent base for a mid-range phone, but there are better ones out there – just not on LTE.
That said, the battery life is great on the Stratosphere, and it can't be beat at $150. The phone keeps going when much more expensive alternatives are already begging for a hit of AC current, and considering the battery woes that plague a lot of Android phones, that's no small matter.
If you need a keyboard and don't care about 4G, go for the Motorola DROID 3. If you need 4G and don't care about a keyboard, the LG Revolution, Samsung DROID CHARGE and HTC Thunderbolt are the same price with an even larger screen. If money is no object, for God's sake, wait for the DROID RAZR or the Galaxy Nexus next month. But if you absolutely need the combination of 4G LTE and a disappointingly lackluster keyboard, go for it.
Check out our hands-on video below to help make up your mind:
[vms 4226c9964043c8462be9]
[device id=1936]