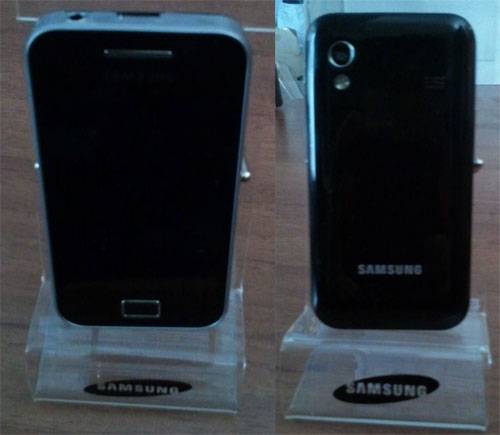 Hey that looks kind of like… wait for it… an iPhone? Yeah sorta kinda. This is the soon-to-be-released Samsung S5830 soon to be named something much snazzier, these images leaked by a blog by the name of SamFirmWare. They've got a source whose brought not only these lovely images, but some specs for the phone as well. Hopefully the next time we see this crunchy treat is in our hands at Mobile World Congress (which of course takes place in Barcelona next month.)
This lovely thang, first of all, is running Android 2.2.1 (Froyo.) Next it's got some version of Bluetooh, Wifi (we don't know which bands,) Micro SD card slot, Micro USB port, 3.5 millimeter headphone jack, a 5 megapixel camera on the back, and has a couple of numbers for maxes on the camera: 2560 x 1920 is the max resolution on the camera, and 1280 x 720 is the max resolution on the camcorder. Take a peek at the post on SamFirmWare too, as they've got a couple more pics and they're totally pumped up about it – and that's what we like to see in this greater Android community!
Now tell me. Does it look like an iPhone to you, or what?
[Via Samsung Hub]