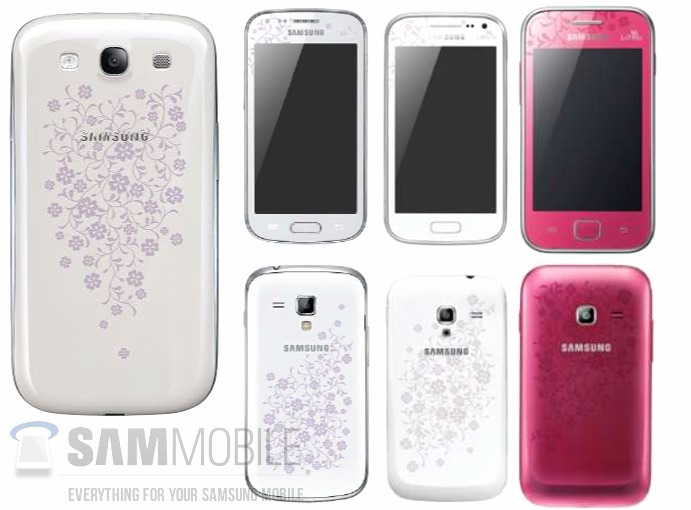 Samsung loves its variants, as evidenced by the fact that it has a total of six different colors available for the Galaxy S III. The Galaxy S III isn't the only phone getting love though, as it appears that Samsung is gearing up to launch new colors for the Note II and the Galaxy S III Mini. Spotted by SamMobile, both phones should be getting three new colors soon, with Samsung set to show them all off at MWC 2013.
The Galaxy S III Mini will be getting new variants in Titan Gray, Onyx Black, and Garnet Red, while the Note II will be painted Amber Brown, Topaz Blue, and Ruby Wine. It's worth pointing out that a few of these colors have already been featured on the Samsung Galaxy S III, so looking at those should give you a pretty good idea of what the Galaxy S III Mini and the Note II will look like with those hues.
According to SamMobile's source, Samsung will begin shipping the new Galaxy S III Mini variants either next month or in early 2013, while the new Note II colors won't ship until some undetermined date next year. As if that wasn't enough, SamMobile has also uncovered La Fleur Editions of the Galaxy S III, the Galaxy S DUOS, the Galaxy Ace DUOS, and the Galaxy Ace II (pictured above). These feature a flower print design on the back for a lean that's a little more feminine, and they should be available sometime in January.
Other than the flower print pattern on the back, these La Fleur phones will have the exact same innards as their standard counterparts, so the only changes you'll be getting are cosmetic. So, it looks like a pretty wide array of Samsung devices will be getting new colors relatively soon, but unfortunately it sounds like most of them won't be launching in time for the holiday season. Will you be picking up any of these new color variants?