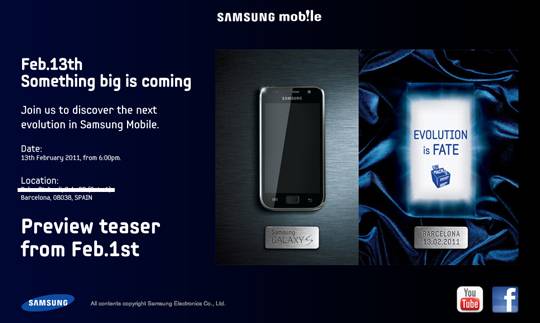 Take a look if you wish at the site whose title last year at around this time told us of a lovely future for Samsung, eventually giving us the Samsung Galaxy S. This year it's sending word of the idea that "EVOLUTION is FATE" – whatever that means – and that on February 13th, something is coming. They note that there's going to indeed be a revealing of the "next evolution in Samsung Mobile" and that – wowie – There's going to be a preview teaser on February 1st. Stay tuned!
The image you see above is also on the Samsung Unpacked website. it shows last year's Samsung Galaxy S announcement next to a silky blue panel that's got an "UNPACKED" logo in it and the words EVOLUTION is FATE. Names of phones? We'll be there to tell you first hand – Mobile World Congress here we come.
But before that, on February 1st, there's going to be a teaser. Probably a strange video that tells us just a teeny tiny bit, or maybe some sneaky photos distributed amongst publishers. Who would do such a thing?