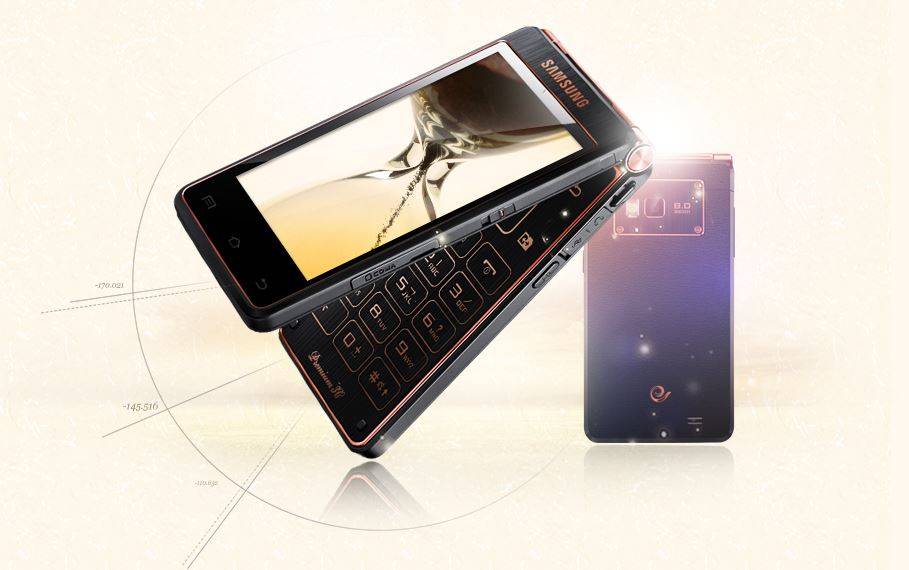 Our job here at Android Community brings us into contact with a bunch of strange devices, and today is no exception. Say hello to the new Samsung SCH-W2013, a dual-screen flip phone that's said to cost quite a bit of money. The new phone launched on China Telecom today and seems to be something of a predecessor to last year's SCH-W999.
Indeed, there are quite a few similarities between the two devices, most notably the dual-screen setup. Both screens are 3.7-inch displays with 800×480 resolution, so aside from the fact that there are two of them, they aren't very impressive by today's smartphone standards. Regardless of the underwhelming screen specs, this phone has got some pretty big star power backing it up, with Samsung recruiting Jackie Chan to help promote the new device. Check out the promotional shot featuring Chan's seemingly ageless mug below.
Engadget says the price of this bad boy is estimated to come in somewhere between ¥18,000 and ¥20,000 – in US dollars, that's about $2,900 on the low end and $3,200 on the high end. That's definitely a lot of money for a phone, but remember that the W999 wasn't exactly cheap either. Seems like those who want to take this phone home will need to plop down a hefty amount of cash first.
Luckily, the innards are pretty solid, with a quad-core processor clocked at 1.4GHz, 2GB of RAM, and 16GB of internal storage. That storage can be expanded thanks to the included microSD slot, and the W2013 also features a 8MP rear-facing camera coupled with a 1.9MP front-facing snapper. Finally, the phone is powered by a 1,850mAh battery and comes running Android 4.0 out of the box. Those specs certainly aren't terrible, but can you imagine ever paying nearly $3,000 for a phone? Let us know in the comments down below, and keep it tuned here to Android Community for more on this strange new device.
[via Samsung]