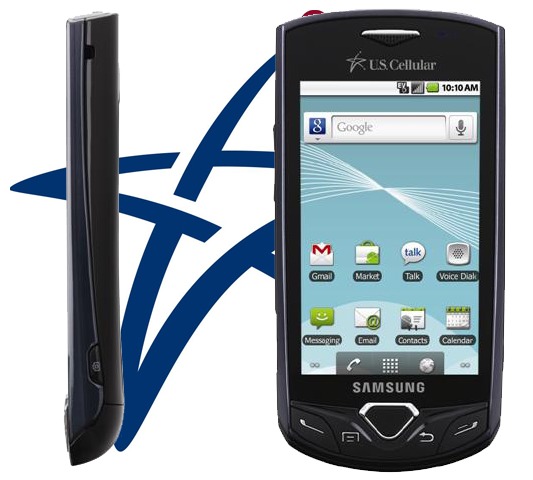 Today we've been sent some exciting news for those of you who love diamond shapes as home keys – that's right! It's the Samsung Gem, announced by Samsung Mobile and U.S. Cellular today, set to be released in stores and online starting on April 1st. This phone will feature a 3.2-inch touchscreen with "advanced anti-scratch, anti-smudge and anti-reflective protective glass." Sounds fancy! Samsung Gem carries Android 2.2 Froyo out of the gate, with no word on updates to Gingerbread.
That gem, look at it! There's a gem on the front that acts as a simple physical Home button, and another that appears to be the exact same size that'll act as shield for your camera lens – 3.2-megapixels, by the way. This phone will definitely be coming up in competition with LG's Optimus line, specifically the LG Optimus U, which is also carried by U.S. Cellular, and the LG Optimus V, the same hardware carried by Virgin Mobile. Will its fashionably unique look beat out its partners?
In the spec sheet we've got they've listed that the device comes with support for a host of audio types, another bag of Bluetooth profiles supported, and the words "Location Based Services" listed twice, which makes us feel like there's some GPS action going on in there. Inside you'll also find 124MB memory, a slot supporting up to 16GB microSD card, and a total weight of 3.85 ounces. Battery is a 1500mAh, which could definitely give you more than a few hours of work time on this little man, and the total dimensions are 4.48" x 2.18" x 0.48".
Take a peek at the full press release below:
U.S. CELLULAR LAUNCHES 'JEWEL' OF A PHONE IN SAMSUNG GEM™

The Latest Android-powered Smartphone at a Smart Price, $29.99

CHICAGO (March 31, 2011) – U.S. Cellular invites those who are ready to take the Android-powered plunge to indulge themselves with the wireless carrier's latest device, the Samsung Gem. In stores and online April 1 for only $29.99 after an $80 mail-in rebate, this smartphone deal is no April Fools' joke. It features a 3.2" full touch screen with advanced anti-scratch, anti-smudge and anti-reflective protective glass.

Keeping in touch with friends and family is easy with the Samsung Gem, which allows you to update your status and post photos and messages to all of your favorite social networking sites with the touch of one button. With its easy-to-use calendar, you can organize all of your social and business appointments. You can also drag and drop various widgets and icons to personalize your very own, one-of-a-kind start-up screen.

"We want to delight our customers with handsets that can be customized to meet their individual needs," said David Kimbell, vice president of marketing for U.S. Cellular. "As the interest in smartphones continues to grow, we are thrilled to roll out high-performing, competitively priced devices that enable our customers to be more productive and simplify their lives."

The Samsung Gem is backed by U.S. Cellular's high-speed nationwide network and The Belief Project, both of which have received high marks from industry insiders and consumers. U.S. Cellular has the highest call quality and network satisfaction of any national carrier*, and The Belief Project earned Frost & Sullivan's Customer Value Enhancement of the Year Award.

The Belief Project recognizes customer loyalty with unmatched benefits and rewards like faster upgrades to the coolest phones in as little as 10 months without requiring customers to repeatedly sign contracts. It also offers an assortment of bundled National Single Line and Family Belief Plans designed to mirror the way people use their phones.

New customers who sign up for a Belief Plan and fulfill an initial two-year commitment will never have to sign another one with U.S. Cellular's "no contract after the first." Current U.S. Cellular customers who previously signed up for a Belief Plan and are already eligible for a phone upgrade can get promotional prices without signing another contract. Customers automatically get valuable rewards that can be used for faster phone upgrades in as little as 10 months, additional lines, phones, accessories and ringtones.

For more information about all of U.S. Cellular's deals, plans and phones, and other restrictions on this offer, visit any U.S. Cellular store, go to uscellular.com or check out U.S. Cellular on Facebook.

*"Source: The Nielsen Company estimation based on an independent survey of 8,324 mobile phone users across U.S. Cellular's footprint between October 1, 2010 and December 31, 2010. Copyright 2010 The Nielsen Company."

About U.S. Cellular
U.S. Cellular rewards its customers with the unmatched benefits of The Belief Project, an array of industry-leading innovations designed to elevate the customer experience. The Belief Project, named Frost & Sullivan's Customer Value Enhancement of the Year, complements the Chicago-based carrier's growing catalog of cutting-edge phones that are all backed by its high-speed nationwide network. U.S. Cellular was recently named a J.D. Power and Associates 2011 Customer Service Champion and was also named one of Forbes Magazine's 2010 "Most Trustworthy Companies." To learn more about U.S. Cellular, visit one of its retail stores or uscellular.com. You can also check out U.S. Cellular on Facebook.