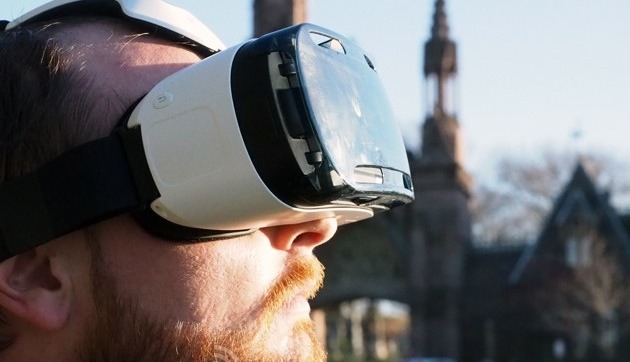 Good news: The Samsung Gear VR, that wonder toy that brings virtual reality to the masses (well, at least those who own a Samsung Galaxy Note 4), is now out to market and available at Best Buy. Bad news: the Gear VR "Innovator Edition" is just available via the online store, so buying this VR headset is still a very Internet-driven process. But at the very least, it is now within the grasp of the consumers out there and no longer just a pipe dream.
Best Buy has started retailing the USD$200 virtual reality headpiece via its online portal, along with the other cool stuff you can find at very consumer-friendly prices. Prior to this, you could only get the Gear VR either through AT&T or the Samsung website. The device comes with 16GB of memory and is preloaded with fun stuff you can use your Gear VR for, but more games and apps are set to be available via the Oculus VR app hopefully soon.
Here come two important reminders about the Gear VR — at the top of the list is that it works only with the Samsung Galaxy Note 4. Oculus, makers of the upcoming Rift head-mounted display, partnered with Samsung in creating the ultimate, affordable virtual reality device, and as of now, only the Galaxy Note 4 is able to provide the power needed to make that experience you're seeing in your head as close to reality as possible. So if you buy a Gear VR, make sure you have the Galaxy Note 4 first.
The second is, at the moment, what Best Buy and all the other outlets are offering is the Gear VR Innovator Edition, which means that this isn't yet the final version of the device. Considering the limited amount of content you can currently enjoy with the Gear VR, plunking two Benjamins for this wonder toy might not be up your alley. Otherwise, if you're feeling quite adventurous exploring the cusp of virtual reality—and if you have a Galaxy Note 4—then go ahead to Best Buy's online store and make your virtual purchase a reality.
VIA: Engadget