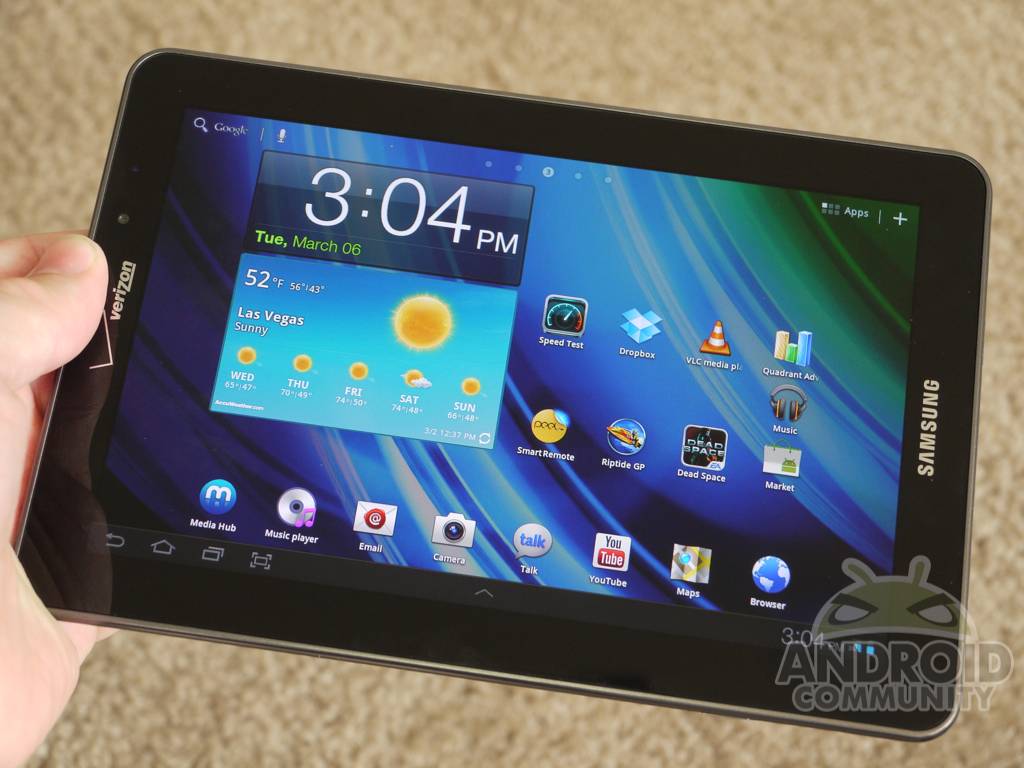 Meet the latest tablet from team Samsung and Verizon complete with 4G LTE and a 7.7″ AMOLED HD display. The Galaxy Tab 7.7 LTE is the newest member of the ever-growing range of Samsung tablets and fits in between all the other sizes they've released as of late. The Galaxy Tab 7.7 LTE has a dual-core processor and one of the best displays we've seen on a tablet — and has us very impressed. Read on for our full thoughts and plenty of pictures.
To start we'll jump right into the hardware, which is excellent by the way. Being portable, thin, lightweight, powered by 4G LTE, and the perfect size makes this probably one of my favorite tablets. Start by checking out our hands-on here and the hands-on unboxing video.
Galaxy Tab 7.7 LTE unboxing
[vms 0537357c67bb3f408684]
Hardware
I wont make you all wait til the very end to get the full verdict here. This tablet is my favorite Samsung table to date — and once it gets Ice Cream Sandwich it will simply be awesome. Complete with a 7.7″ AMOLED HD display with a 1280 x 800 resolution and exquisite colors this thing really shines during daily use, gaming, and watching Netflix. Under the hood is the Samsung Exynos 1.4 GHz dual-core processor, 1GB of RAM, 16GB of internal storage and it even has a micro-SD slot to add more if/when needed.
Being 7.7″ I'd still say this is a bit too large to fit in your pocket unless you have larger than normal pockets, but it is still extremely portable and having Verizon 4G LTE really helps out. The Galaxy Tab 10.1 is too large to be what I myself would call "portable" and the Galaxy Note might to too small for those still wanting a tablet experience.
Around back is a 3.2 megapixel camera and 2 megapixel up front for video chat. The power and volume buttons have been redesigned compared to all other Samsung tablets and I love the new shape. Being slightly squared and they actually feel different than each other so you wont accidentally turn the screen off while trying to increase the volume. The power button feels slightly lower than the volume rocker so that helps too.
The Samsung Galaxy Tab 7.7″ is shown above with the 10″ Verizon LTE Tab and the Galaxy Note for a comparison of the size. It also comes in around 7.89mm thin and is the thinnest tablet available from Samsung — but only by a hair. The brushed aluminum on back is a step up from the cheap plastic feel of the larger 10 and 8.9″ models and a welcomed change. It seems to resist scratching quite well too.
Larger tablets like the 8.9 and 10.1 from Samsung didn't have a micro-SD port for extra storage, but the smaller 7.0 Plus did although no 4G LTE. Giving the Verizon Tab 7.7″ the best of both, or all I should say, makes it truly the best Samsung Galaxy Tab available in my opinion. The only bad part is no Ice Cream Sandwich, and that brings me to my next topic.
Software
Running on Android 3.2 Honeycomb is the only downfall of this tablet for me. Previously we docked points for tablets not having Honeycomb but now that Ice Cream Sandwich is here, and readily available we want it on our tablets. That aside this is the same experience we've had across all Samsung devices with the TouchWiz UX. Things are smooth, they've updated a few apps and widgets to use the larger screen, and the built-in screen capture feature is nice. I just wish it wasn't next to the multitasking button as I always hit the wrong one.
Out of the box Verizon has bundled some decent apps along with the usual bloatware. Using things like Blockbuster and Netflix is awesome with the screen size and vivid colors. The usual V CAST apps and My Verizon are here, but we also have a photo editor, quick office, Smart Remote (Peel) for the included Infrared port on the side, UNO, Dead Space by EA Games, and an app called The Daily for news. We also have Swype for tablets pre-installed and it works pretty well for the screen size, swpying on a 10″ device wasn't ideal if you ask me but is far more manageable on this 7.7″ of real estate.
Performance & Benchmarks
As usual we've ran a quick couple of benchmarks to see how fast things are. As we mentioned above this has the Samsung 1.4 GHz dual-core processor like the international Galaxy Note, not the 1.5 GHz Qualcomm the AT&T model comes with. Performance seems to be about on par if not a little better though. See the results below for a better idea.
Slowly I'm realizing even though Quadrant is the standard in benchmarking that many people use, I've also ran AnTuTu as many feel it is more accurate with dual-core devices. Either way benchmarks only play a small roll in actual real-life performance. The only slowdowns are the few bugs in 3.2 Honeycomb and they are few and far between.
We did however get upgraded to the brand new Google Play and Play Store for Android that is replacing the Android Market, this was my first device with the update. Again you can really see from the screenshot below just how impressive the colors are on this 1280 x 800 AMOLED HD panel Samsung's equipped this slate with.
4G LTE Speedtest
Of course having connectivity in the form of Verizon Wireless and their blazing fast 4G LTE we had to run some speedtests. Here in Vegas we achieved average results with speeds reaching around 9-11 MB/s in download speeds and upload wasn't that great. We did however have a solid 4G LTE connection throughout town. Better than my Galaxy Nexus actually.
Camera / Battery Life
The camera around back is 3.2 megapixels, like most tablets from Samsung. While it isn't the best being only 3.2 MP it's actually better than many higher rated smartphone cameras. As long as you have mildly decent lighting we captured good pictures but usually a little grainy. Here's a image taken with the Tab 7.7 and more are in the gallery below.
Battery life remains another strong point for Samsung here too. While we don't have a quad-core or anything on board I did manage to get 3 days on a single charge with light light usage and 4G LTE enabled. Using the device more heavily will see substantial drops as you'd expect — especially with LTE sucking down power. However, the 5100 mAh battery was big enough to last for almost 26 hours of heavy usage throughout the day and all night gaming on the couch. Running video non-stop while streaming Netflix you'll probably only get about 8-9 though.
Wrap Up
The screen is awesome, the dual-core is fast, the size is perfect and so is everything else. The only downfall here is the lack of Android 4.0 Ice Cream Sandwich but that is coming soon. After using this for about a week I can safely say this is the sweet spot for me in regards to Android tablets. Yes a 10″ slate is nice but the tiny additional screen space ruins portability and I have a hard time carrying around something that large out of the house.
If you've wanted a tablet but didn't like the idea of a 10″ device this should be your first choice. Well, this or the Samsung Galaxy Note because it's awesome too. Once Samsung updates this to Android 4.0 ICS this will be my favorite 3G/4G tablet available. Get it now from Verizon for $499 and a new 2-year contract.
[device id=1445]