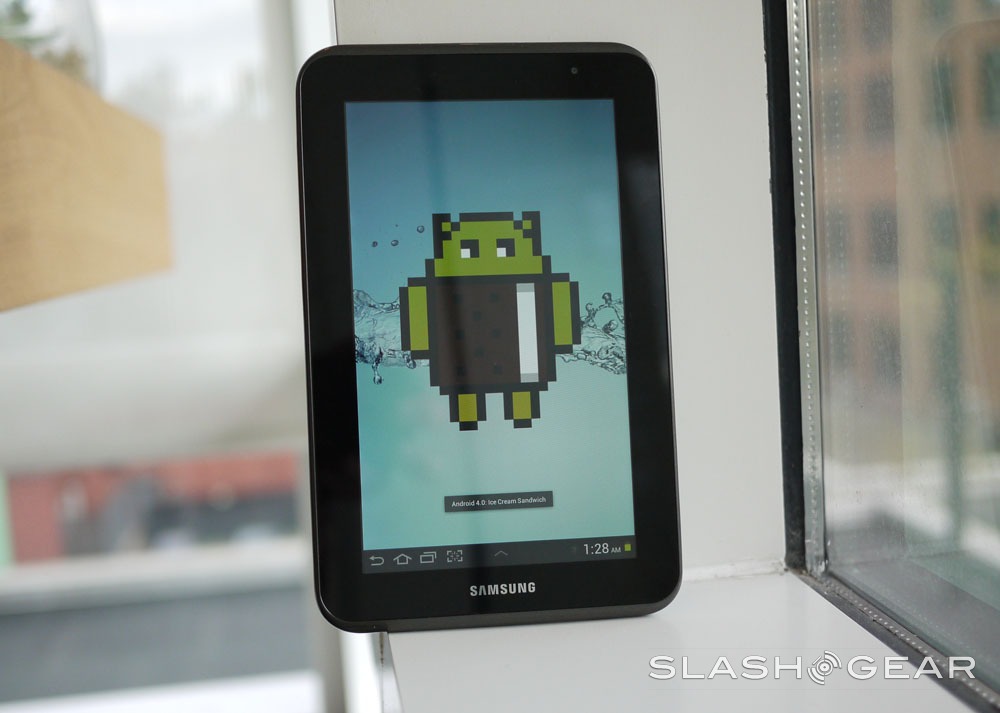 Samsung's went back to the drawing board and has prepared two more Android tablets for the market. Calling this round the Galaxy Tab 2 they come in both a 7 and a 10-inch flavor. We've seen details on these dual-core Android 4.0.3 Ice Cream Sandwich tablets for weeks and weeks but they'll finally be available later this month. Best news here though is the price and Samsung has really outdone themselves.
While we've seen Samsung release a Galaxy Tab under almost every size imaginable over the past 8-10 months here in 2012 they appear to be aiming for the regular sizes while offering a better price. Compared to the recently released Galaxy Tab 7.0 Plus running Honeycomb for $399, the new Galaxy Tab 2 7-inch comes in at only $249 — finally a great priced Samsung tablet.
That $249 will get you an impressive and portable Android tablet equipped with a 1.0 GHz dual-core processor and 1GB of RAM. Only this is no Tegra 2 tablet and instead is powered by a TI OMAP processor. The 7-inch display comes in only at 1026 x 600 and isn't AMOLED like the Tab 7.7 but then again we do have that awesome low price. As usual with Samsung tablets you get a 3 megapixel rear camera and 1.3 front for video chat.
Our friends and sister site SlashGear had a chance to enjoy this new slate from Sammmy and you wont wanna miss their Galaxy Tab 2 7-inch Review. Along with the usual specs we've come to expect from Android tablets this little portable device has a few special treats. Not only do you get a micro-SD slot for extra storage but Samsung's also tossed in an IR port for controlling your Samsung Smart TV and other home audio equipment.
All of this for only $249 sounds like a pretty good idea if you ask me. Samsung's finally delivered an affordable and impressive Android tablet — hopefully the others follow suite. It can be yours starting April 22nd so you better start saving that spare change.
[device id=2382]