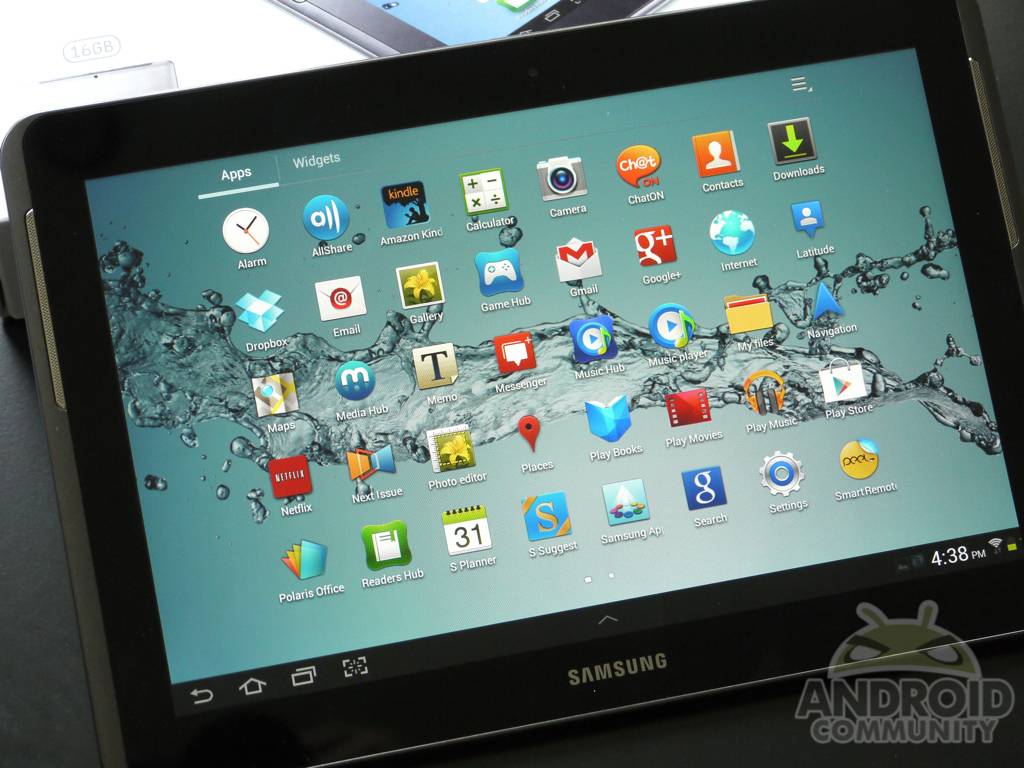 Available starting today is the all new Samsung Galaxy Tab 2 10-inch tablet. Thanks to Samsung we've got it right here to put through the paces and check out the newly refined design and speaker grill placements. It appears Samsung is taking two approaches on tablets. One being a more budget-friendly Tab like the Galaxy Tab 2 7-inch and the 10 we have today, and then their top end will be the quad-core Galaxy Note 10.1 coming this summer. This new slate is clearly a media consumption device, and it works great. Read on for our full review.
The Tab 2 10-inch was rumored to be delayed in favor of a quad-core processor but that wasn't the case. Instead Samsung has opted for a cheaper 1.0 GHz dual-core processor (not a Tegra 2 like the original Tab 10) but instead a Texas Instruments dual-core chip. Don't worry though folks, it performs great and is being offered at a friendly price starting at $399 for the 16GB model. We'll start with the hands-on and tour video below then dig into the details.
[vms be7b2d7992d6b69b519f]
Hardware
With the new Tab 2 the hardware has seen a few design and internal changes but for the most part is very similar to the original Galaxy Tab 10 from Samsung last year. What you'll get here is a different processor, a sleek design, better speaker placements and a lower price point. Like mentioned above, under the hood is a 1.0 GHz dual-core processor, 1GB of RAM, and it comes with 16GB of internal storage. However Samsung did provide a micro-sd slot for additional storage. Then we have the usual 3 megapixel camera on the rear, and a 1.3 front for video chatting and self portraits.
Samsung has taken what they learned from the first 10-inch model, their recently released Galaxy Tab 7.7 LTE, and the smaller Tab 7 and added everything into one. Gone is the cheap feeling plastic back and instead we have a brushed aluminum designed plastic back that feels very durable. Then they've added the SD slot, and the Infrared port from the older 7-inch model for controlling your home theater or TV.
All of the controls are actually up top with nothing on either side of the slate. We have from left to right the power and wake button, volume up/down, micro-SD slot, Infrared eye, and the 3.5mm headphone jack. The front half has a dark grey shiny aluminum while the back keeps that brushed rugged and durable look. I'm actually a total fan of this latest model and it might be my favorite Galaxy Tab to date.
I've always hated the rear or bottom facing speakers on tablets, especially if there's only one like the Transformer Prime. The new Galaxy Tab's have been improved and offer a pair of front facing stereo speakers. The new Galaxy Tab 2 10-inch model we have here today by far has the best audio of any tablet I've tested to date. They are clear, crisp, and get extremely loud. Not only that but you don't have to worry about your hand covering them up during use. This makes the tablet much easier to hold, gaming is loud and exciting, and streaming Netflix (which comes pre-installed) is better than ever.
The 10-inch screen is still only 1280 x 800 like most tablets available, and isn't AMOLED but sure is bright, vivid, and seems to have similar viewing angles to most Samsung tablets. Their displays are never much of an issue anyways and always are good quality with Sammy. The lightweight design also doesn't add any weight over the first Tab 10, and it's much lighter than the heavy quad-core ASUS Transformer Prime.
Software
Samsung has released these tablets with Android 4.0 Ice Cream Sandwich for the OS. With their own tablet-optimized version of TouchWiz over the top that offers impressive widgets, screenshot features with edit mode, and a new keyboard that is actually really nice to type on compared to the stock ICS tablet keyboard. The changes are lightweight and performance remains strong and usage is swift.
Like mentioned above, Samsung appears to be going for a cheaper consumption device here and will be targeting the high range with the 10-inch note. The Galaxy Tab 2 comes pre-loaded with tons of media apps such as Samsung Music Hub, Music Player, a custom video player, Netflix, a photo and video editor, as well as Peel smart remote to use the Infrared. Clearly this is all about consuming media with this WiFi tablet and so far I've done plenty of that. Playing games and watching movies is awesome with the improved speakers up front.
Performance
Being only a 1.0 GHz dual-core processor this is actually one of the lower spec'd devices released in the past 6 months in the dual-core category. With everything lately coming with 1.2 or 1.5 GHz dual-cores or higher at first we questioned Samsung's choice. After using this for the past week I can safely say so far I don't miss the speeds. Usage is solid, performance is great for movies, games like Grand Theft Auto III and more. Sadly we can't access those TegraZone THD games because they've moved from NVIDIA's Tegra 2 to a Texas Instruments processor, but most games are still available in the Google Play Store.
Obviously you can see where she lies in regards to benchmark tests such as AnTuTu. With many devices including the quad-core ASUS Transformer Prime blowing past its results, but that was sort of expected. Only scoring 3000 in Quadrant this is hardly an improvement over the original, more of an additional option for those in the market. Needless to say, from my video above you can clearly see performance is still stellar even though benchmark results are low. For $399 this tablet rocks.
Camera and Battery life
With the new Tab 2 the camera isn't anything great, just like all of Samsung's tablets. I guess they don't see a need to offer a better camera and the Tab 2 comes with the same 3.2 megapixel camera all the others have. Their smartphones have excellent cameras but tablets are another story. I'd hardly consider this a con though, as I rarely if ever take pictures with my tablet. Below is a few pictures for those curious on the performance. As long as you have enough light it will take a few pictures with ease that are worthy of Facebook and the likes.
Battery life however is pretty awesome. Samsung's equipped this slate with a 7,100 mAh battery and I've manged to get nearly 3 days of casual usage from a single charge. While usage will vary from user to user this is on par if not better than most tablets on the market — as long as you don't watch Netflix for 6 hours a day.
Wrap-Up
From the media apps and widgets, Netflix, Peel Smart Remote and more it's clear that this tablet is made to play and enjoy media. Offering hardly any difference over the original other than mainly the speakers and Ice Cream Sandwich coming stock — this tablet is about the same. I'd say I was disappointed with how similar they are but I'm not. For the price they'll be asking ($399) this is an great tablet experience. The hardware is excellent, build quality is top notch and creak free, and it comes with the latest Android 4.0.3 Ice Cream Sandwich operating system.
If you were wanting or expecting a powerhouse Ice Cream Sandwich tablet or gaming machine the Galaxy Note 10.1 will be their flagship quad-core tablet once it's made available later this summer. If you don't want to wait, for the price point your options are this tablet or the Transformer Pad TF300. It does offer a quad-core processor but it's not as premium feeling, has a plastic design, and isn't as thin and beautiful. If you want the work horse the TF300 is for you, if you'd like a thin and awesome overall experience the new Galaxy Tab 2 10-inch from Samsung is worth a look.
Feel free to ask any questions in the comment section below and check out all of the pictures from the gallery, as well as previous coverage or comparisons from the links below.
[device id=2388]