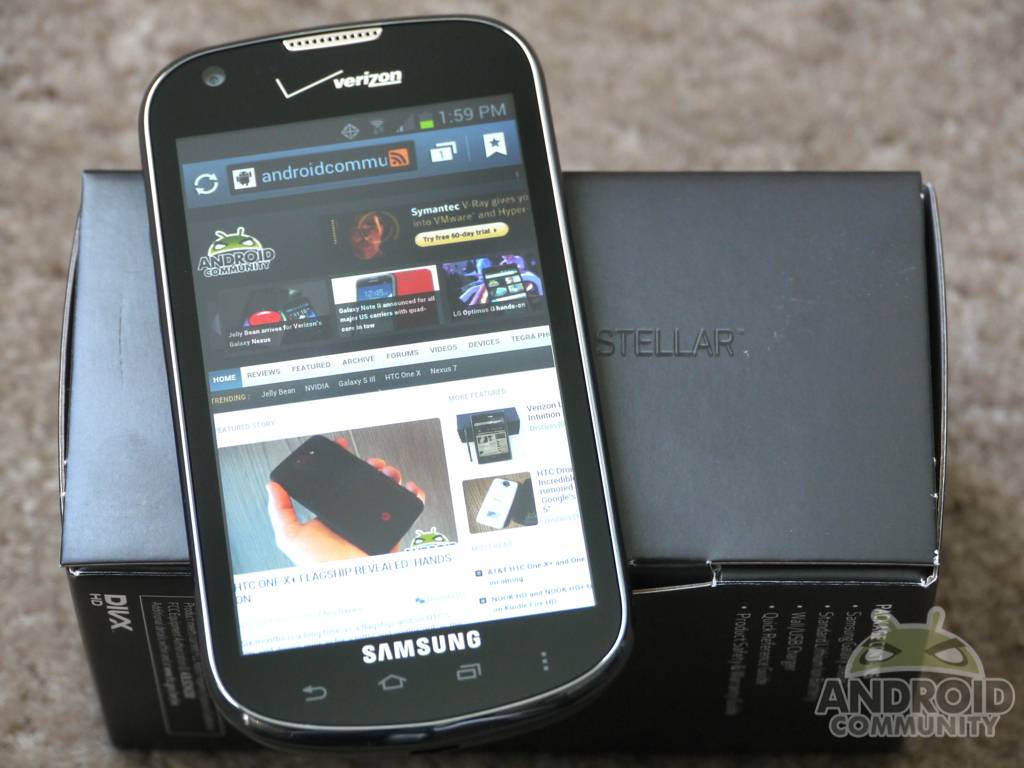 While Samsung is putting a lot of steam behind their flagship Galaxy S III and Galaxy Note II smartphones that are some of the best on the market, they've also been kind enough to not leave out the rest of the market. That's where the Samsung Galaxy Stellar comes into play. This new budget handset has almost all the top end specs we love from Samsung (almost) while coming in a decent package at a fair price. Lets take a look and see if it's worth it.
The Samsung Galaxy Stellar comes off as a confused child. That is because the internals are aiming for a higher end of the spectrum, but then the small lower resolution screen keeps it down. It has a bit of a personality disorder and doesn't know what it wants. However, those that haven't used a smartphone before will certainly want this — that is for sure. It isn't a pretty sight to look at — but that isn't to say it's terrible either. Overall the phone has plenty of features and specs to keep users interested, especially considering the budget-aimed direction of this smartphone which is obviously geared towards first time smartphone buyers. With Android 4.0 Ice Cream Sandwich for the OS and a starter mode for newbies — lets take a peek at the hardware.
Hardware
The Galaxy Stellar comes in a sleek package, it's lightweight, and packs a pretty decent punch. The Stellar offers a slightly less than stellar 4-inch WVGA display, which means you'll be working with a 800 x 480 resolution, so no HD here. For a nearly free phone we can't really expect that though. The screen aside, this phone is quite decent.
The specs under the hood are what make it special. You have Android 4.0 Ice Cream Sandwich being powered by Qualcomm's popular Snapdragon S4 processor, only this is 1.2 GHz instead of the faster 1.5 GHz in the Galaxy S III and other high end devices. We get 1GB of RAM, and sadly only 4GB (1.7 usable) of storage. They do toss in a micro-SD slot for extra storage options, a 3.2 megapixel rear camera, 1.2 front for video chat, and a massive battery. Samsung's equipped this 4G LTE smartphone with a 2,100 mAh battery — one of the larger sizes for a 4-inch smartphone. Overall the hardware is rather decent, but certainly has a budget feel in your hands. The design looks strikingly similar to the older DROID Charge — although this didn't get the DROID branding this time around.
On the bottom is the rather small and cramped capacitive touch buttons, which are also off-center compared to most phones. A first time user will not notice the difference — but we did immediately. The right side houses the power/wake button, while the left side employs the volume rocker and micro-SD slot for extra storage — which you'll probably need. The up top is the 3.5mm headphone jack, microphone pinhole for noise cancellation, then of course the camera is around the rear. Take a look below:
Software
As far as software we have an extremely standard Android 4.0.4 Ice Cream Sandwich build for the OS running on Samsung's TouchWiz UX changes. Everything is butter smooth and actually runs quite excellent. I was pleasantly surprised by the performance here. The important thing here is the "starter mode" which Samsung has added for first-time smartphone buyers. The video below touches on the hardware in case above didn't show you enough, then breaks down the software as well. Enjoy!
As you can see, performance is swift and actually quite stellar. Essentially they've added starter mode for someone that's never used a smartphone — or that wants an intuitive and streamlined experience. What you get is basically a set of widgets taking up all the screens with instant access to the dialer, settings, quick actions, and popular apps like the camera, gallery, Play Store for apps, and email. They make it as simple as swiping left or right to do almost any task the average (light) user would do. The video above should have explained it.
Then as far as pre-installed apps. Verizon as usual has a plenty. The picture above shows the nearly 3 pages of applications. Amazon is everywhere, which is a new agreement with the online giant to have their apps on Verizon phones. IMDb, Let's Golf 3, Plants vs Zombies, and Quick Office are among a few worth mentioning. Then as usual Verizon's suite of apps and navigators.
The software runs great on this device and users whether new — or experienced — should enjoy what it has to offer. It might not be the Galaxy S III but the dual-core S4 processor does a great job all around and won't be limited for years to come.

Benchmarks & 4G LTE
As usual we've ran a few popular benchmark and 4G LTE speedtests to make sure things are up to par and running as they should be. The Galaxy Stellar doesn't disappoint. For a device you can get nearly for free the benchmarks are quite high. Rocking over 4000 in Quadrant thanks to the Snapdragon S4 under the hood. It beats out the Galaxy S II — but this is just a test. AnTuTu wasn't as nice however and they came pretty close
The benchmarks mirror what we've noticed while using the device — and that is it's extremely quick. Combining Android 4.0 ICS with a fast and efficient dual-core chip makes for a great experience. Oh and the battery lasts forever too but more on that below. Then we quickly checked the Verizon 4G LTE here in Vegas, and it was just as expected rocking 15-20 Mbps download speeds and 2-5 up. Fast enough for uploading those weak 3.2 megapixel camera photos folks. Facebook should work with ease for you newbies to the smartphone world — don't forget there's an app for that!
Camera & Battery


The camera is pretty sub-par, but then again this is a nearly free budget phones that you can get for a great deal so we can't expect too much. It's 3.2 megapixels and as long as you hold steady and have enough light pictures should be fine for Facebook, Instagram, and the works. You certainly won't be recording video of any decent quality. It doesn't even record in 720p so it's safe to say you'll still need a camcorder for most situations. Here's a few camera samples with decent lighting and one macro just for fun.
Battery life is exceptional with this smartphone. Stellar I might even say. Samsung packed a massive 2,100 mAh battery in this smartphone which is rare for the 4-inch form factor. It lasts for an entire day with ease and will certainly be better than almost any other Verizon handset from Samsung. Below you'll see an entire day of usage with brightness set to 80% — oh and I played at least two hours of Let's Golf 3 straight up and it didn't dent battery life. This phone should last nearly two days with moderate use.
Wrap-Up
The Samsung Galaxy Stellar is a bit of a toss up here. When we said nearly free throughout this review we meant it. You can have this device absolutely free with a new 2-year contract from Verizon. The only downside is you'll pay $50 in-store and wait on a mail-in-rebate. In the end however you'll have a higher mid-range smartphone that will treat you right for years to come and you won't pay a penny for it after the rebate.
The Samsung Galaxy Stellar certainly isn't the best smartphone around, from Samsung or otherwise when it comes to Verizon's lineup. However for the price of free you get a package that is really hard to compete with. For those that are new to smartphones or just doesn't have the funds for a $199 phone this is absolutely perfect. Id clearly take the Samsung Galaxy Nexus over this phone for the 4.65-inch HD Super AMOLED display, but it does have an older processor that isn't quite as fast. It really is a toss up and in the end comes down to the price. If free.99 after a $50 mail-in-rebate sounds good to you then you'll certainly want to pick this up. We really can't knock this phone or Samsung for the approach they've taken. Enjoy it and the additional pictures below.
[device id=3418]