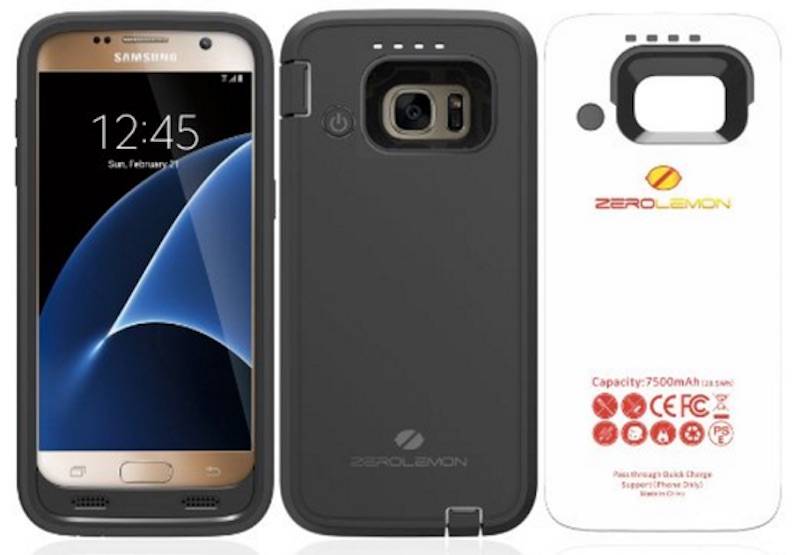 The Samsung Galaxy S7 and Galaxy S7 edge are truly two of the most popular flagship devices released this year, as proven by the 26 million units they have sold since they were launched in March. However, one problem that the Galaxy S7 (and to some extent the other flagship too) continues to have is it's less than desirable battery life. Good thing there are products like the ZeroLemon Samsung Galaxy S7 ZeroShock 7500mAh Rugged Extended Battery Case, now on sale through Amazon.
Despite Samsung's Ultra Power Saving Mode and the Android Marshmallow's Doze feature, you would still eventually run out of battery for one reason or another. But if you're looking for both a battery extender and a case for your device, ZeroLemon is a go-to brand for those two purposes in one case. This 7500mAh one especially for the Galaxy S7 says it will bring you up to 170% extra battery. It is also optimized for your device so you won't have to worry about overheating or overcharging.
It also serves as a rugged battery case that has multiple layers of protection for your precious smartphone. The ZeroShock in its name is not a misnomer as it will guard your device from shocks and falls. The soft TPU case meanwhile ensures it is a "perfect fit" for your Galaxy S7. However, when you put on the case, your 7.99mm thin phone becomes 21.1mm thick. But if you think the benefits outweighs the bulk, then go for it.
The normal price for the Galaxy S7 ZeroLemon extended battery case is $99.99. But for an unspecified time, you can get it at $59.99 (that's 40% off) through Amazon, and shipping is free as well within the US.
SOURCE: Amazon