The Samsung Galaxy S6 Edge+ has finally been reviewed by DxOMark. The phablet got an impressive score of 87 which means it's as great as the Sony Xperia Z5. Getting the same score isn't really a surprise because we already knew the latest S6 variant is very powerful. This one doesn't run Android 6.0 Marshmallow yet but this Lollipop version has been improved a few number of times already.
Before the  S6 Edge+ hit the benchmark website, the Sony Xperia Z5 is followed by the Galaxy S6 Edge. It only makes sense that the Plus version scores better than just the Edge because the specs are made better. When it comes to imaging, the smartphone boasts of "great exposures in all conditions" according to DxOMark.
The Galaxy S6 Edge Plus can record images with more vivid and realistic colors in good light conditions. Color reproduction and white balance turn out excellent. However, under a tungsten light, white balance is a bit yellowish or pinkish. When it comes to detail preservation, details are very visible which can sometimes already be considered as noise. It's not that noticeable though for ordinary eyes.
DxOMark also said that under low light or just under a 20 Lux light source, good detail can already be recorded. That's good enough but you might notice some luminance noise. Other smart phones did well in this condition so it's a bit of a surprise. Both Flash and Autofocus are great. The latter is actually fast yet very accurate in all lighting conditions while the phone can capture quality images even with no additional light source, just the basic flash.
When it comes to video recording, the Samsung Galaxy S6 Edge Plus is one of the best, producing good color reproduction and very high levels of detail under bright light conditions. In low light, it's not as detailed. You'll notice some luminance noise as well.
DxOMark Mobile Photo score is 87 while DxOMark Mobile Video score is 85.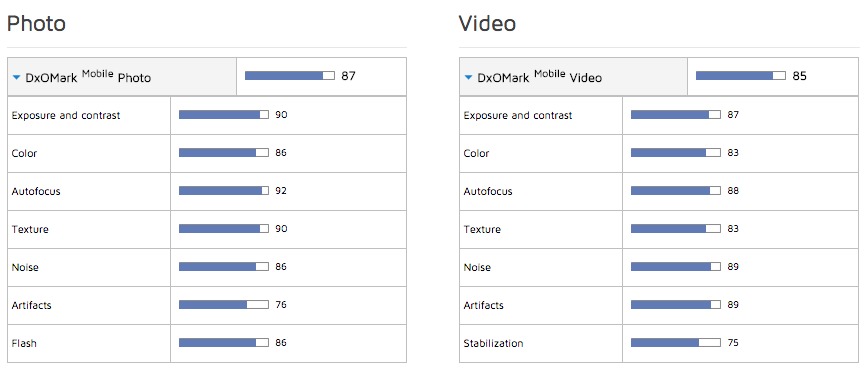 SOURCE: DXOMARK