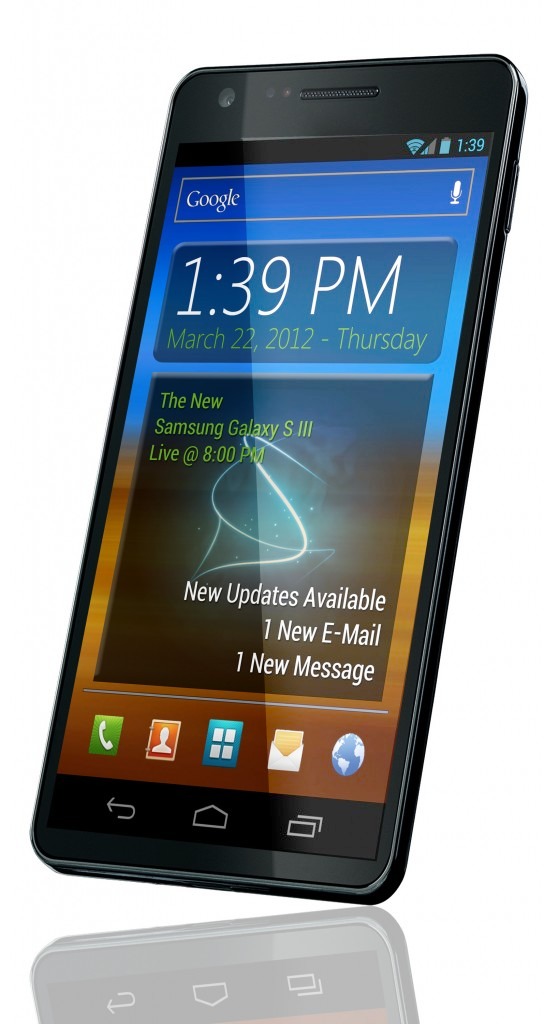 The Samsung Galaxy S III is coming. Yay! I'm just as excited about this phone as the next Android enthusiast but that is about where it ends. Until we get any official details or leaks all these fake renders are just pointless. Most likely the next Galaxy S III will look something similar to what we see below, but after a quick closer look you can obviously spot the faults of this Photoshop job.
The guys from Phone Arena received this "official press image" but clearly it is a fake, or Samsung is getting sloppy. Between the widgets being different size, shape, and not the same on the corners and even the lighting being off and messed up this is clearly fake — don't get me started on that font. I have a feeling the next Galaxy S III will probably look something similar to this, but most would guess the same thing. With Android 4.0 ICS not needing the hardware buttons we no longer see the rectangle home button from previous devices. The design also gives the phone a longer look to go along with the suggested 4.8″ screen from previous rumors.
Nice widgets right? Clearly tossed together pretty fast and without attention to detail. In the gallery below you'll also see the brightness increased and how the light reflection is clearly not right either. If this was real then we'll be hearing something soon and even possibly an official announcement on March 22nd — but that is doubtful. Earlier this week we heard reports that the device has started production, and will have a unique ceramic design that will truly be revolutionary.
Latest rumors suggest a 4.8″ display, Android 4.0 Ice Cream Sandwich, a quad-core Exynos processor, 12 megapixel camera and more. Not to mention the ceramic casing for a strong and lightweight design like mentioned above. I can't wait to see some official information about the Galaxy S III and hope Samsung releases some details soon. For now, enjoy this fake photo and dream of what the future holds for Android.