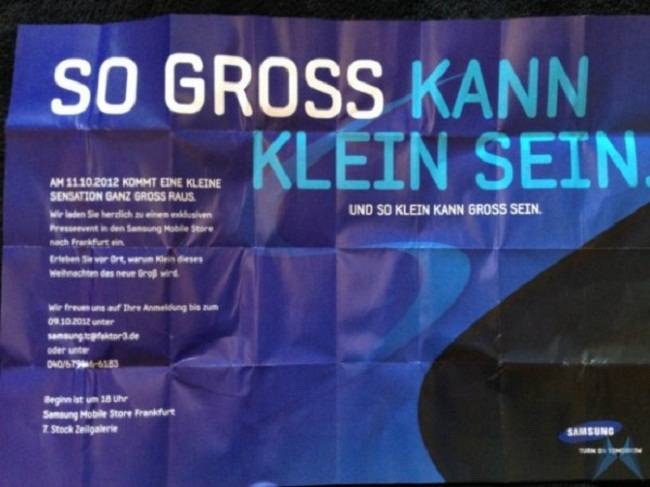 If you love the Samsung Galaxy S III but that massive 4.8-inch screen might be a bit too big for those small hands of yours, Samsung has you covered. Don't fall for the iPhone 5 thumb commercial. Samsung could be announcing the Galaxy S III Mini next week in Germany. Some reports are floating around with a photo showing invites for the event.
What you see above is an invite floating around the interwebs that was received over in Germany. While it obviously isn't in English lets break it down. According to UnwiredView this is legit, and you can even see the large S right in the middle of the invite.
"Something small will be really big. Get ready for a little sensation."
After the magical help of Google Translate the words you see above is what's spelled out in the invite. Clearly the Samsung "S" is present so this will be a Galaxy S device — but that doesn't mean the SIII Mini since many of their phones have the S in their name. We've heard rumors of a Galaxy S III Mini since last August, and it all could come to light next week.
The event is set to take place in Germany next week on October 11th, and many sources close to the matter and leak are stating it will in fact be the Galaxy S III Mini, and not some other Galaxy S branded device. Nothing is as big as the Galaxy S III or Galaxy Note II in terms of size or popularity, so something along those lines only smaller makes perfect sense. Some rumors speculate a low resolution 4-inch display and dual-core processor but we have a feeling this will be more along the lines of the DROID RAZR M with top-end specs in a mid-sized device. Stay tuned for more details.